The demand for electric two-wheelers worldwide has seen a significant increase in recent years, for example, growing by 145% in 2020 in the US according to World Economic Forum, in due to the growing concern for environmental sustainability and the need to reduce carbon emissions. With advancements in battery technology, electric two-wheelers have become a practical and efficient means of transportation enabling more flexibility in mobility across a broader demographic, especially in congested cities. Furthermore, governments worldwide have introduced incentives and subsidies to promote the use of electric vehicles, including two-wheelers, which have further accelerated the growth of the market.to promote the use of electric vehicles, including two-wheelers, which have further accelerated the growth of the market.
REVOLUTIONISING COMMUTES: E2-WHEELERS TAKE THE SPOTLIGHT
These market trends have supported the development of a range of emobility platforms including e-Scooters, e-motorbikes, and e-bikes.
Image 1: Data Source: Global Market Insights - Electric 2-Wheeler Market Report (2022 – 2030)
LIGHTER, QUIETER, MORE POWERFUL
When we look at the largest e-2 wheeler segment, e-bikes, there are several considerations for e-bike engineers, specifically electric drives. Key factors include;
Balancing the performance and efficiency of the electric motor

with the weight and cost of the drive system.

Optimising power delivery and responsiveness

of the motor to ensure a smooth and natural riding experience.

Safety and reliability of the drive system

, ensuring that it can withstand the stresses of regular use and that it meets safety standards.

Ease of e-drive integration

into different bike designs, making it compatible with a wide range of electric bikes on the market.

Competitive total cost in use

of components for overall value.
Reflecting on the increasing demand in e-drives, Joseph Elmquist, Global Strategic Technology Manager at Victrex notes, "e-bike drive specifiers and integrators have been quick to adopt polymer gears into high volume, lower priced product ranges achieving significant cost savings to the manufacturer while creating a more refined riding experience for the consumer due to the reduced weight, noise and growing compliance of these polymers versus metals. However, growing demand for higher power including performance e-bikes (faster) and cargo e-bikes (higher load) has created the need for enhanced gear durability while maintaining ride refinement.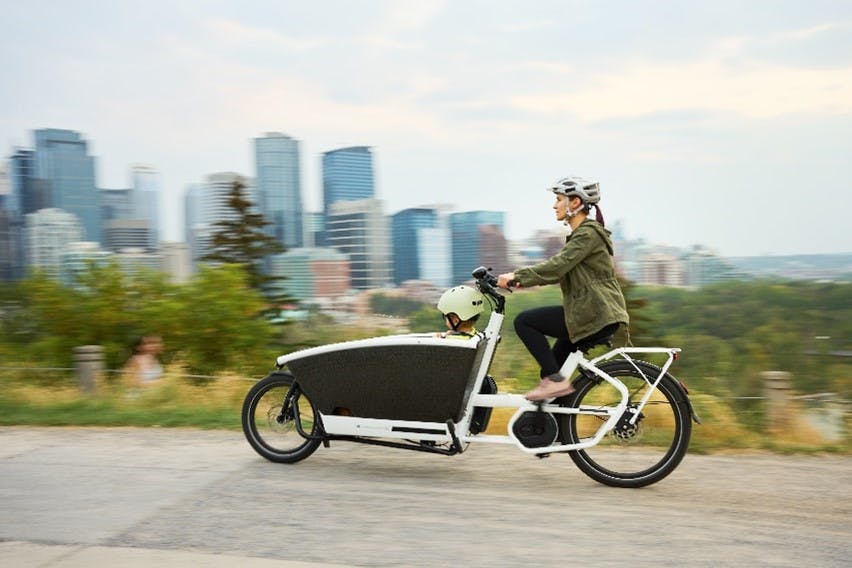 Image : cargo bikes have become a popular way of transport in cities (photo: iStock)
One option is premium metal gears. But, the issue with the more premium metal gears is that although they can handle the load, they feel less refined to the consumer and cost more for the OEM. As a consequence, higher performance polymers such as PEEK are providing a viable solution to address key market trends."
Typical benefits of VICTREX HPG™ gear solutions for e-drive designers include:
Optimising acoustics while improving power output.

Reducing drive unit form factor

with higher temperature and wear resistance.

Improving ride quality

with smoother gear operation while maintaining drive unit robustness

Opportunity to reduce total cost in use.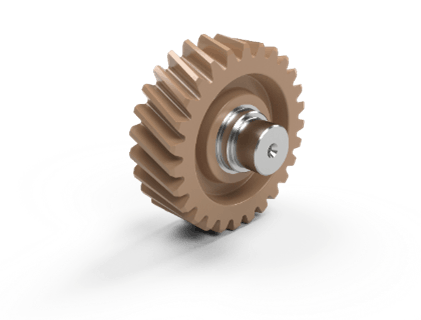 Image : VICTREX HPG™ Helical PEEK Polymer Gear © Victrex
More information on PEEK e-bike gears can be found here
Doug Thompson, Global Strategic Marketing Manager for e-mobility, highlights Victrex's activities and support for the e-drive market; "Until recent years, Victrex has been working with electric drive unit manufacturers focused on niche market segments such as adventure and mountain biking who require a lightweight and refined riding experience. We now see these needs broadened beyond e-bike enthusiasts to more mainstream segments including commuters and families. "
FROM PRODUCT TO POWERHOUSE:
HARNESSING CAPABILITIES FOR ENHANCED VALUE CREATION
Victrex has been at the forefront of high performance polymer gear design for many years to support our customers' competitive advantage and accelerate their time to market. We see that e-drive producers across the globe value our global network and the capabilities it offers to support their developments from concept to launch.
Design and analysis

– Over 40 years of experience in high-precision PEEK gears design.

Prototyping

– Accelerating time to validation through integrated prototyping services.

Testing

- On site gear testing equipment.

Tooling

– On site tool shop to accelerate product development.

Quality systems and inspection

- Highest quality system standards with ISO 9001:2015 registered, GADSL List 02/2017; IATF 16949.

Manufacturing

- On-site injection moulding enabling of high-volume precision polymer gears.

Image : Gear Innovation from Every Angle - Victrex's integrated approach from concept to mass production
UNLOCKING THE FULL POTENTIAL:
EARLY COLLABORATION FOR MAXIMUM SYSTEM ADVANTAGE
Ralf Weidig, Victrex Global Programme Manager for Gears, points to the benefits of early engagement with customer programmes: "The opportunity to best leverage the benefits of VICTREX HPG™ PEEK polymer gears is maximised by early project collaboration. The potential to reduce system complexity, weight and cost while enhancing efficiency and NVH is biggest at the point when a new development starts. We have worked on several projects where the system benefits could have been considerably bigger if customers had involved us earlier on. The expertise we can offer is both in the gear design but also the product technology. This combination allows us to enhance gear design for optimal e-drive system performance. To support this we offer a complete solution of design, prototype, and manufacturing globally – we call it "Gear Innovation from Every Angle"
THRIVING AMID CHALLENGES:
SUPPLY SECURITY AND A STRONG SUSTAINABILITY STANCE
In a global and dynamic market we recognise the need for security of supply for our customers and offer proven capabilities to serve our eMobility customers: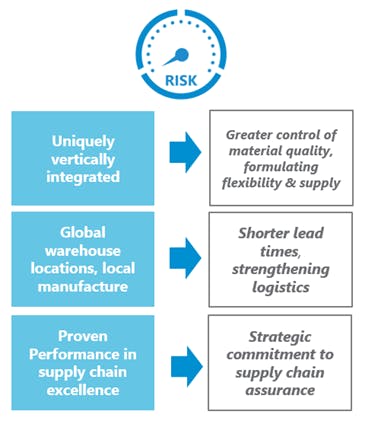 After all, we fully recognise the importance of sustainability. It is a central part of the Victrex strategy. Our commitment to ESG is reflected in our corporate wide programme and industry credentials:

About the authors
Doug Thompson is Global Strategic Marketing Manager for Victrex's Automotive business and joined in January 2022. He has over 30 years of commercial experience within the chemical industry focusing on the Automotive, Aerospace and Industrial sectors. He has worked for a number of international companies including Huntsman, Cabot and Synthomer. Doug holds a Post Graduate Diploma in Marketing from the Chartered Institute of Marketing and Masters Degree in Marketing Management from Nottingham Trent University. (LinkedIn Profile)
Joseph Elmquist joined Kleiss Gears in 2013 as a lead design engineer and technical lead for new product development of thermoplastic and thermoplastic composite gears. Following Victrex' acquisition of Kleiss in 2015, he continued to lead the technical development efforts on thermoplastic powertrain gear applications culminating in the successful launch of the first VICTREX PEEK gears for power transmission within the automotive powertrain in 2017. Joseph holds a BS in Engineering Mechanics and a MS in Mechanical Engineering with a focus on nonlinear dynamic mechanical systems from the University of Wisconsin-Madison. (LinkedIn profile)
Susanne Sauer has been with Victrex since 2012. She has over 30 years experience in Marketing and Communications in multinational companies in the polymer industry. At Victrex, she is the Marketing Communications Manager for Victrex's automotive business. (LinkedIn profile)
Ralf Weidig joined Victrex in 1995 and is in charge of the company's global gears program with a focus on the automotive industry. He graduated from the Technical University of Stuttgart as a mechanical engineer with a focus on plastics engineering and then joined ZF as a team leader for non-metallic materials. At Victrex he held several technical and commercial positions in the company, including the development of Victrex' composites business. Since 2014 he has been leading the development of the company's global gears business including the acquisition of US gears manufacturer Kleiss in 2015. (LinkedIn profile)
You may also be interested in...