When designing a critical component for the Energy Industry, material selection is crucial. You need to understand how it will perform in real world conditions, and minimum testing requirements don't always give you the full picture.
Imagine you're designing a critical component, perhaps a back-up seal or electrical connector, for a cutting-edge Oil & Gas downhole tool. Your supplier may offer you a material for the component that has been tested properly using standard protocols, but it could end up lasting only three months, instead of the expected three years, which could cost you up to US$100,000 a day in non-productive time.
Material selection is crucial and having an understanding of how said material will perform in real world conditions, and for how long, is equally important.
Minimum testing: a false sense of security
With polyaryletherketone (PAEK) polymers, adhering to minimum testing requirements to evaluate chemical resistance can produce a false sense of security because you may only see a minor change in performance, if testing for anything less than 1000 hours, due to the polymer's high chemical resistance. The data obtained needs careful consideration to assist component design.
Even when comparing polymers from the same chemical family, it is not uncommon to see differences in the level of chemical uptake and the rate of change of properties and this is no different for PEEK polymer.
Consequently during material selection and the development of the moulding process further testing along with education and processing support can provide the detailed information necessary for an application to confirm/validate or increase this security.
As the industry is forced to move to more unconventional plays for oil and gas, the need to assess polymer performance in hot, high pressure and sour environments has increased significantly.
Test methods from bodies such as NORSOK and ISO, provide the accepted industry standards. However, testing beyond those protocols can help in achieving more conclusive interpretations and reducing risk even further. This process has been a passion of ours at Victrex for years and has not only driven our participation in several regulatory bodies, but also enables us to prove that our VICTREX™ PAEK polymers are able to push boundaries to extend the scope of oil and gas exploration.
Get the full picture with a Material Testing Checklist
To gain a more comprehensive understanding of how a material performs in real world conditions, there are a few questions to ask your material supplier, regarding the duration and temperatures used in their PAEK polymer tests.

If you are interested to learn more details about what you should be asking for and why our on-demand webinar on polymer lifetime predictions could worth watching.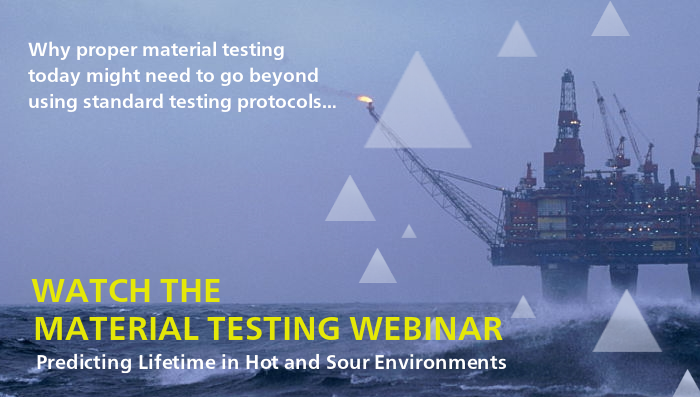 About the author
Dr. Geoff Small, Market Technology Manager – Victrex
Having studied Materials Science at the University of Bath and obtaining his PhD on the subject of Cellular Composite Structures, Dr. Small has worked in the polymer industry for 23 years. Prior to joining Victrex he worked for The National Physical Laboratory (UK) and for Phillips Petroleum Company in a market development role for engineering polymers.