Technological advances could solve three critical success factors facing the commercial introduction of eVTOLs (electric vertical take-off and landing), popularly known as "flying taxis". The borders between present and future are now a world in transition.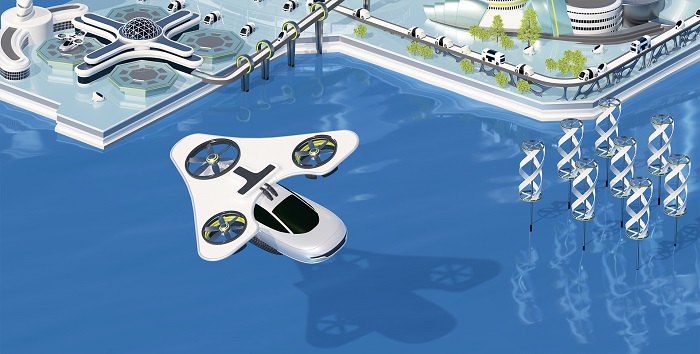 Over recent years, the transportation industry has seen increased interest and investment in the development of flying taxis or eVTOL vehicles for both inter- and intra-city travel. Today there are more than 250+ such projects around the globe, from start-ups to well-established companies. One of the underlying challenges uniting most, if not all, of these projects is the quest for the right materials, in the right combination, to successfully commercialise eVTOLs.
Challenge 1: The trade-off between performance and weight

Balancing performance with overall weight is a key challenge for eVTOL vehicles. For example, they currently rely on battery technology for power, but this power unit can weigh up to 500 kg per aircraft. All-electric propulsion has unique challenges regarding power and range. The heavier the vehicle, the more power is consumed, so light-weighting is a critical parameter, along with consistent battery performance.

Maximising the power-to-weight ratio is nothing new to the aerospace industry. Light-weighting has been a consistent theme in aviation since the we first took flight in the early 1900's. Moreover, Victrex has been solving light weighting challenges with PEEK & PAEK-based solutions in aerospace for more than 25 years. Primarily used as metal replacement solutions VICTREX™ PEEK and PAEK-based polymer solutions for use in Aerospace are up to 40% lighter and have up to 5x specific strength compared to metals. This combination of high strength and low weight is, in part, why more than 20,000 commercial passenger aircraft in service today contain the high-performing polymers, in some form. For good reason! Parts produced offer features that include excellent mechanical properties, high-temperature performance, corrosion resistance, and thermal and acoustic protection. Furthermore, they contribute to weight savings, compared to metals.
Challenge 2: Reducing the noise of the engine

A comfortable cabin is a "must" if flying taxis are to become a popular form of transport. An important factor here, is engine noise. Passengers will want a reasonably quiet ride. To help solve this challenge, it is worth applying valuable lessons learned in other industries. The automotive industry is a case in point. The need for down- or rightsized engines results in more "noisy" engines and the industry is now tackling these NVH (noise, vibration, harshness) challenges.

Victrex has demonstrated that PEEK polymer gears reduce rattle and noise issues in engine applications by up to 50% (3dB). Compared to cast iron gears, the weight and moment of inertia are also considerably lower when VICTREX HPG™ gears are used – by up to 68% and 78% respectively. Additional potential benefits, compared to the use of metals, include considerably higher specific strength (strength per unit weight) and corrosion resistance.

However, replacing metal gears with PEEK gears also requires specific expertise in gear design. Several global manufacturers, including a major car manufacturer, have already taken advantage of our ability to look at the whole system, not just the gear. Consequently, the first VICTREX HPG gears are now on the road – and maybe in due time will also conquer the space above the congested streets.

Talking about a comfortable ride, it might be worth mentioning that commercial airliners now flying the skies use thermal-acoustic-blanket (TAB) insulation and burn-through barriers made from PEEK-based APTIV™ film to insulate the passenger compartment and provide an improved passenger experience.
Challenge 3: Production cost and speed optimisation
Light-weight composite material solutions are being considered for structural elements of eVTOL vehicles. In terms of the polymer matrix, two options are available: thermoset and thermoplastic resin.

Thermosets require a relatively long production time, need to be stored in a temperature-controlled, cold environment, and they have a limited shelf life.

In contrast to that, thermoplastic composite products based on high-performing PEEK and PAEK polymers have a weight similar to that of thermosets but offer additional advantages. They:
can be produced more quickly
require less infrastructure to manufacture
are recyclable
do not use solvents and
have a longer lifespan
The potential benefits start resonating across the supply chain. Recently, air taxi developer Jaunt Air Mobility announced its partnership with the Triumph Group to develop thermoplastic composite based parts for their eVTOL program.
Performance plus efficiency – a winning combination!
Thermoplastic composites combine exceptional material performance with manufacturing efficiency, and particularly in the case of VICTREX AE™ 250 can help the eVTOL industry balance cost and volume requirements. VICTREX AE 250 is a thermoplastic composite available in a Unidirectional Tape (UDT). It is unique amongst thermoplastic composites because it has a lower melt temperature. The melting point is 303°C instead of 343°C for PEEK; however, the glass transition temperature is 147°C instead of 143°, and crystallinity is typically 25-30%, so these are similar to those of PEEK.

One well-known processing method for UDT is AFP (Automated Fibre Placement) drop-off mode, which is used to create composite parts by multiplying and stacking the UDT layers in an automated process, avoiding challenging and time-consuming manual operation. Victrex recently presented findings from a joint study with Coriolis that demonstrates how a layup speed of 60m/min is achievable (2 to 6 times faster when compared to conventional thermoplastic technology) and approaching thermoset speeds.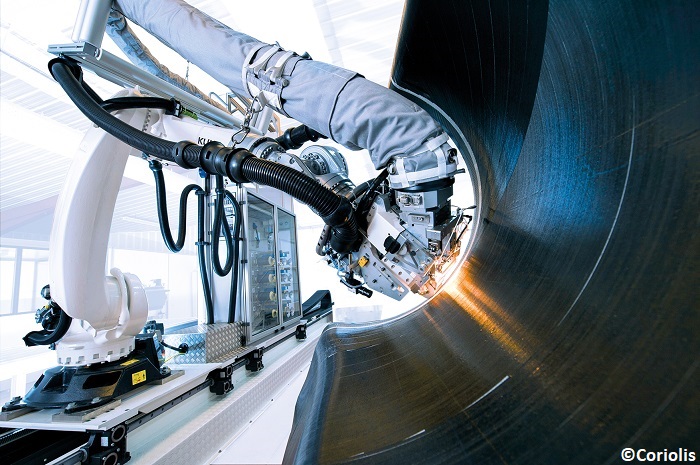 Other benefits are seen with the lower layup and mould temperature. Our joint study also demonstrated that the oven consolidation cycle is 20% shorter than that of conventional thermoplastic-based UD tape consolidated OoA (Out of Autoclave). Crystallinity and porosity rates also meet aerospace industry standards. Overall, this leads to a reduction in manufacturing cost of 5% to 23%, depending on the consolidation mode (either Out of Autoclave or in-situ).
Will flying taxis reduce carbon 'footprint'?
For the eVTOL industry, thermoplastic-based composites in particular offer a robust manufacturing alternative to thermosets. However, the supply chain must be ready to produce thousands of vehicles per year at a relatively low cost, if flying taxis are to be introduced on a commercial scale in the near future. To address this point, Victrex has created TxV Aero Composites, a thermoplastic composite manufacturing company, whose design and production facility is AS9100 certified. The company, located in Bristol, Rhode Island, USA, offers VICTREX AE 250 laminates and inserts to enable part processors to make composites or hybrid moulded parts as well as offer those parts itself. TxV is now bridging a gap and is able to help manufacture innovative, composite parts that can speed up the production of new aircraft.

It wouldn't surprise me if flying taxis became cheaper, faster to build, and easier to operate than helicopters. Reducing the amount of travelling as well as investigating new technologies and light-weight material solutions may well contribute to reducing the carbon footprint. Think of travelling in congested cities where simply getting from A to B can take an eternity while producing large amounts of CO2 emissions.

© Victrex plc. 2020. All rights reserved.
Disclaimer
About the author
Gilles Larroque holds a degree in mechanical engineering from the University of Technology of Troyes, France and a Master of Science degree from Florida Atlantic University (Boca Raton, FL, USA). He joined Victrex in 2011 as European Spine Marketing Leader and moved to a global strategic marketing responsibility for aerospace in 2016 focusing on commercial aerospace and eVTOL.