Can traditional B2B industries borrow from High Tech & use Crossing the Chasm theories to drive customer adoption for disruptive products?
Disruptive technologies have huge impacts on companies, economies and societies across the globe – and they required considerable entrepreneurial courage and visionary thinking. Just look at how the iPhone put a computer in your pocket or how Uber, Lyft or Didi are redefining on demand transportation.
Victrex, for example, is historically known as the number one supplier of PEEK (Poly ether ether ketone), a high performance polymer used across a range of industries including Aerospace, Automotive, Electronics, Energy, Industrial & Medical. While collaborating with customers in these industries, Victrex recognized that some of the challenges to be solved required the development of new products that include polymers, forms & in some cases finished parts. Many of these new products would disrupt the status quo and require a framework & set of tools to help drive customer adoption – enter Crossing the Chasm.
Crossing the Chasm
The core tenet of 'Crossing the Chasm' is that any market or population can be segmented into several categories:
Innovators & Early Adopters – likely to try new things to evaluate UPSIDE potential
Early Majority & Late Majority – will try when necessary to protect DOWNSIDE risk
Laggards – unlikely to adopt. Prefer status quo
When introducing a new product, it is critical that a firm focuses on Early Adopters. As you can see in the chart, Innovators/Early Majority are a small percentage of any market - so why start there? The Early Adopters are willing to take a risk on a new product for the potential upside – increased share, higher margins, or competitive moat. The bulk of the market opportunity resides with the Early & Late majority. A firm must recognise that the majority has completely different motivations for purchasing a new product – namely maintaining market share, reputation, etc…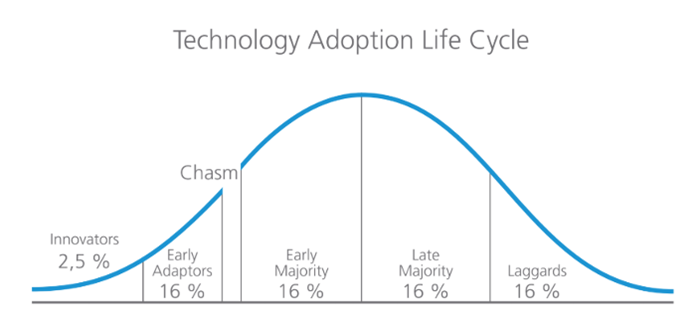 Source: http://www.theagileelephant.com/wp-content/uploads/2015/08/Moores-Chasm.jpg
The Chasm represents the space between Early Adopters & the Early Majority. Crossing the Chasm requires taking an intentional approach towards customer & segment selection. A firm must aim to find a 'beachhead' segment that is accessible to the Early Adopter but translatable to the Early Majority. Characteristics of a good beachhead:
Is the target market/segment/geography accessible to our sales & marketing efforts?
Can we deliver a whole product? (more about that below)
If we win, can it be leveraged to access the majority?
Once you've selected a beachhead customer, you still need to ensure that your new product solves customer problems. Many firms fail at product introductions because they fail to account for the adjacent products & services that must be in place to create a real solution.
Deploying Crossing the Chasm at Victrex: Disruptive PAEK based technologies
Today, Victrex´s disruptive technologies include Loaded Brackets, solutions for Oil & Gas Pipes, PEEK Gears, Knees, Trauma Plates, & PEEK Dental solutions. We thrive on disrupting the status quo and finding new ways to solve complex (design) challenges, that address customer demands of today and the megatrends affecting tomorrow. We are a material supplier, no doubt about that, but one that contributes to support breakthrough innovations with its disruptive products that currently span polymers, forms and parts in selected areas.
If you'd like to learn more about 'Crossing the Chasm', I'd recommend reading the book by Geoffrey A. Moore or browse the content at the Chasm Institute. If you're interested in some of the disruptive products at Victrex, please get in touch or visit YouTube channel.
© Victrex plc. 2018. All rights reserved.
Disclaimer
About the author
Ryan Brady is the Global Head of Strategic Marketing at Victrex where he has worked since 2014. Prior to Victrex, Ryan worked at SABIC in a series of Sales, Marketing, & Innovation roles with progressing responsibilities. Ryan has a BS in Marketing from Bentley University & a MBA from Colorado State University.