New platform with clear device predicates in the US and Europe enables medical device manufacturers to expand their trauma offering beyond metal technologies.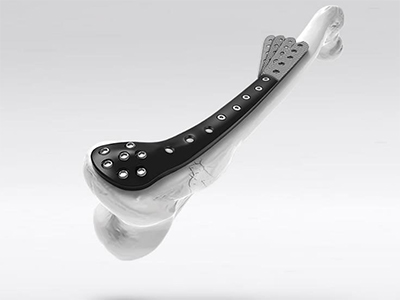 Thornton Cleveleys (UK) – Medical device manufacturers looking to innovate and differentiate trauma products while delivering clinical benefits can capitalise on a new technology platform. The offering from Invibio Biomaterial Solutions ('Invibio") delivers trauma plates composed of their high-performance composite, PEEK-OPTIMA™ Ultra Reinforced. Clear regulatory device predicates in the US and Europe enable medical device manufacturers to more easily expand their trauma range beyond metal technologies. The polymer-based anatomic devices could be appropriate in those cases, where the prognosis is poor, particularly with high risk patients.
Price pressure and margin erosion are forcing medical device manufacturers to explore the development of new trauma solutions that continue to help to improve patients' clinical outcomes. For medical device manufacturers, Invibio can add significant value with respect to design, manufacturing and materials knowledge, reducing the investment of time and money typically associated with significant innovation.
PEEK-OPTIMA Ultra Reinforced improves the visibility of the fracture during surgery, improving the ability to assess reduction and alignment. Initial results from an ongoing survey indicate that over 80% of surgeons can identify poor fracture alignment when PEEK-OPTIMA Ultra Reinforced is used as opposed to less than 30% for metals.1 The survey is focused on the assessment of two fracture fixation areas, the proximal humerus and the distal femur.
Unsuccessful treatment of fractures, resulting in non-unions, costs the healthcare system more than $2 billion in the US alone.2 In the literature, non-union rates have been detailed as high as 19% for distal femoral plating.3 While metallic implants have been used for the last century with limited changes, the patient population has become more challenging with increasing co-morbidities such as obesity, diabetes and osteoporosis. This, combined with a longer life expectancy and a desire to maintain a quality of life, has driven the need for alternative biomaterials for use in treatments.
PEEK-OPTIMA Ultra Reinforced combines the high-performance material properties of PEEK-OPTIMA Natural polymers with the additional strength imparted by continuous carbon fibre. The material can be tailored to have mechanical strength similar to that of metallic plates, combined with a 50X greater resistance to fatigue, extending implant lifetime.4,5 Hardware removal complications are likely to be reduced as carbon fibre PEEK composites are biologically inert, having low tissue adhesion and cold welding of screws does not occur.6 Invibio is leveraging its market-leading PEEK polymer-based medical composites manufacturing capability, along with its significant R&D resources, to provide a total solution for designers and manufacturers of implantable devices used for the fixation of fractures.
Representatives from Invibio will be available to discuss this new trauma technology platform at the AAOS Annual Meeting Booth 2438 – March 25 – 27, 2015.
***
1. Data on file at Invibio.
2. HCUP Nationwide Inpatient Sample (NIS), 2012, Agency for Healthcare Research and Quality (AHRQ) Assumes non-union rate of 10%
3. CE Henderson, LL Kuhl, DC Fitzpatrick, JL Marsh, Locking Plates for Distal Femur Fractures: Is There a Problem With Fracture Healing?, J Orthop Trauma, 2011, Vol 25, S8-S14
4. Data on file at Invibio. Pre-clinical and biomechanical testing is not indicative of clinical performance.
5. Data on file at Invibio. Biomechanical testing is not indicative of clinical performance.
6. L Tarallo, R Mugnai, R Adani, F Zambianchi, F Catani, A New Volar Plate made of Carbon-Fiber-Reinforced Polyetheretherketon for Distal Radius Fracture: Analysis of 40 Cases, J Orthop Trauma, 2014, Vol 15, 277-83
Invibio™, a Victrex plc company, is a global leader in providing high performance biomaterial solutions to medical device manufacturers. The company provides PEEK-OPTIMA™ polymers, advanced technical research and support and manufacturing of components for spine, trauma and orthopaedic medical segments for the development of long implantable medical devices. Today, Invibio's PEEK-OPTIMA™ polymers are used in more than five million implanted devices worldwide.