A collaborative project has seen the pioneering of new technology which could improve manufacturing throughput and efficiencies, and reduce the cost and weight of aircraft structural components
Victrex being selected as a finalist for the Combined Strength Award at CAMX17 together with the ThermoPlastic composite Research Center (TPRC) is already a high distinction. Moreover, it is demonstrating the capability of injection moulding on a grid-stiffened composite panel. With the aerospace industry seeking to increase manufacturing productivity and aircraft build rate, this innovation has exciting implications for the design, manufacture and application of structural and semi-structural components in modern aircraft construction.
Pushing boundaries through collaboration
A group of organisations came together to pioneer a technology that could help accelerate efficient production processes, and provide opportunities for composite engineers seeking new approaches to developing existing parts.
Victrex is proud to be part of this team, partnering with organisations that span the complete value chain – from composite PAEK material supplier to OEMs and the TPRC. This combination of knowledge, resources and expertise ensured that the research and technology development was performed with a clear view on the future application and manufacturing, including the development of numerical process design tools.
Innovation and material science
A typical grid stiffened panel was selected as the focus of the innovation. Found in large numbers in aeroplane structural applications, its stiffness and strength performance combined with the extreme dimensional accuracy puts high demands on manufacturing processes.
The panel is a combination of a carbon-reinforced PAEK composite insert that is press formed, and then overmoulded with VICTREX™ PEEK 90HMF40. With a relatively low melting temperature, the composite PAEK polymer can be overmoulded with PEEK, with the heat of the injected polymer being used to melt the surface of the solid insert upon contact.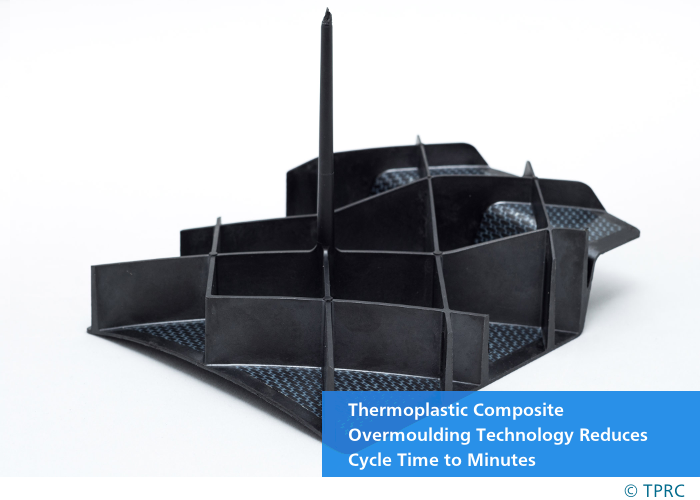 Combining the best of two manufacturing processes
Overmoulding of the grid stiffened panel combined elements of press forming and injection moulding, and demonstrated the excellent bonding between the two compounds. This resulted in a part that had the geometrical stiffness of an injected grid with the material performance of a continuous fibre reinforced composite, all realised with the fast production speed of injection moulding – with a cycle time of less than two minutes.
Benefits for today
Overmoulded thermoplastic composites offer huge opportunities for components that are produced in large volume:
Potential to increase throughput up to 90% and reduce production bottlenecks with out-of-autoclave manufacturing

Short cycle times (<2 minutes) make the process cost effective and energy efficient when compared to conventional autoclave curing of thermoset composites

Weight reductions and lower CO2 emissions can be realised through the design of lightweight, thermoplastic composite parts using injection moulding

Improved cost-performance ratio supports efficient production technology initiatives
Possibilities for tomorrow
However the value of the technology magnifies when considering applications beyond the existing part design:
As the heat of the injected polymer is used to melt the surface of the solid insert upon contact, this could accelerate the use of the overmoulding technology in several aerospace applications, with numerical models developed during the TPRC collaboration to work with existing design tools

The design freedom associated with the injection moulding process opens up a new avenue to address productivity through part consolidation, and the ability to manufacture complex geometries that could reduce or eliminate secondary processes
This freedom could enable iterative savings as components are transitioned to thermoplastic solutions. And with the upside potential for engineers to design a disruptive component to address multiple needs with a single part, it could shape the future of large volume complex component development.
If you are at CAMX and interested in learning more about the overmoulding of PEEK compounds, come to our technical paper presentation "Overmoulding of PEEK Compounds for Composite Aerospace Brackets" by Stuart Green on Weds 13th Sept at 3pm, or visit TxV Aerospace Composites, a Tri-Mack and Victrex joint venture, at Stand T72 to find out more about composite solutions for high volume aircraft applications.
About the author
Robert Mazzella, Global Head of Composites—Aerospace, Victrex
Robert Mazzella graduated with a B.S. in Chemical Engineering from Virginia Polytechnic Institute and State University. He has 15 years of experience in high-performance polymers including a focus on thermoplastic composite material, process, and application development for nearly 10 years.