"Why the fuss? Why is it that we think now is a particularly exciting time for the technology" are the provocative questions Dr James Myers, Head of Research & Development for the Aerospace and Composite Technology Team at Victrex, addresses in a
recording
worth watching.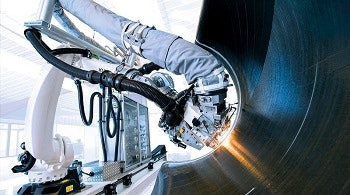 "Modern" composites were first patented in 1936.* Throughout the 40's the development and utilisation of these "fibre reinforced polymers" (FRP) built momentum and were used to make commercial boat hulls for example. In 1953 the Corvette made history as the first mass-market vehicle with a body made entirely of glass-fibre/polymer composite material. In the years to come, composite processing technologies continued to advance and higher performing matrix materials were introduced. Amongst them, the PAEK polymer family including PEEK, which was patented in1978 and three years later first commercialised as VICTREX™ PEEK polymer
With FRP roots going back 80+ years, why are we talking about now as the next big thing?
One reason is that historically, these materials have been quite challenging to process. High-performance polymers, such as PAEK for example, typically require high pressures and temperatures to form. In addition to the material, equally important components in a technological task include the know-how and a demonstrated track record.

"A harmonious union between material and technology is perhaps the main key to a successful marriage when it comes to current and future innovation in sectors such as aerospace and oil and gas. Working with the right customers and partners to provide the right material for the right application has been shown to enable greater adoption of TPCs," emphasizes Dr James Myers, Head of Research & Development for the Aerospace and Composite Technology Team at Victrex. The company has done just that within the fast-paced, safety-critical aerospace sector, where there are now already more than 20,000+ aircraft with Victrex solutions onboard.
What's changed?
The greater alignment of processing, material and design has combined with Victrex's close cooperation with development partners and processors right along the value chain to tier suppliers and OEMs. "A marriage of material and technology that has delivered a real foothold in this sector!" says Myers.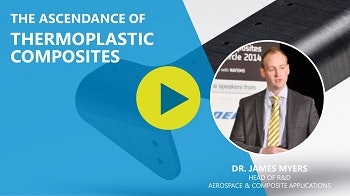 To illustrate how Victrex uses its skills and knowledge gained in one sector to drive innovation into other areas, Myers looks at the partnership with Magma Global, that is today reducing costs and risks of subsea oil and gas projects. This VICTREX™ PAEK based success story is being repeated in
aerospace
, where hybrid over-moulding is being used to make parts that reduce system costs and optimise the buy-to-fly ratio while increasing throughput vs. metal & thermosets.
These examples serve as proof points that
Victrex
is providing the right material and technology combinations for the right applications, whether that be:
investing in partnerships to develop supply chains to manufacture parts
managing costs and risks for subsea projects; or
providing significant weight-saving and full-life cost reductions for certified products operating in some extremely harsh conditions; or
developing technologies for low-weight and high-performance components for use in the aerospace sector.
Low-Melt PAEK (LMP): a game-changing technology
Victrex and its partners are currently very excited about the game-changing capabilities of low-melt PAEK materials. Exploring the major impact of continuous fibre-reinforced composite tapes, such as VICTREX AE™ 250 UDT (uni-directional tape), Myers highlights the significant potential for improvements in infrastructure, set-up costs, energy consumption and part production rates, all helped by a greater potential processing window for the process of choice. Such materials deliver a combination of design freedom and strength while potentially offering additional processing benefits over PEKK and other composite tapes.

If you'd like a quick fly around Victrex's aerospace solutions, please feel free to sit down, fasten your seatbelt and listen in to this concise but informative videoblog.

If you want to talk with James about this and other issues, please get in contact.

*) US Patent 2,233,433A for "Wool glass" filed in 1936 and awarded in 1941 to Owens-Corning Fiberglas Corporation, now Owens Corning, Ohio/USA. Sources: https://patents.google.com/patent/US2233433A/en and www.owenscorning.com tap History" trademarked 1936 as FIBERGLAS with one S" both viewed 2020-06-12; 9:50 CET
© Victrex plc. 2020. All rights reserved.
Disclaimer
About the author
Michael Sullivan, Marketing Communications Manager at Victrex, has over 15 years of experience in various high-performance polymer industries. He joined Victrex in 2017 in a marketing role focusing on the aerospace industry and advanced composite manufacturing.