At the Fakuma show in Germany, Victrex, a world leading PAEK1 expert, is providing further proof points that the company is more than "just" a high- performance polymer (HPP) producer. A new broad food grade portfolio, a novel solution for e-motors and gears in automotive, impellers in electronic home appliances, investments in building a supply chain for the use of thermoplastic composite parts for aerospace as well as partnerships in Additive Manufacturing (AM), with new AM PAEK products in development, are all representative indicators that the global company is progressing solutions based on VICTREX™ PAEK polymers. In selected areas this also includes forms and parts, such as composite brackets for aerospace. The invention and development of PEEK 40 years ago and Victrex´s dedication to focusing on PAEK/PEEK thermoplastics are the foundation of this impressive catalogue of success.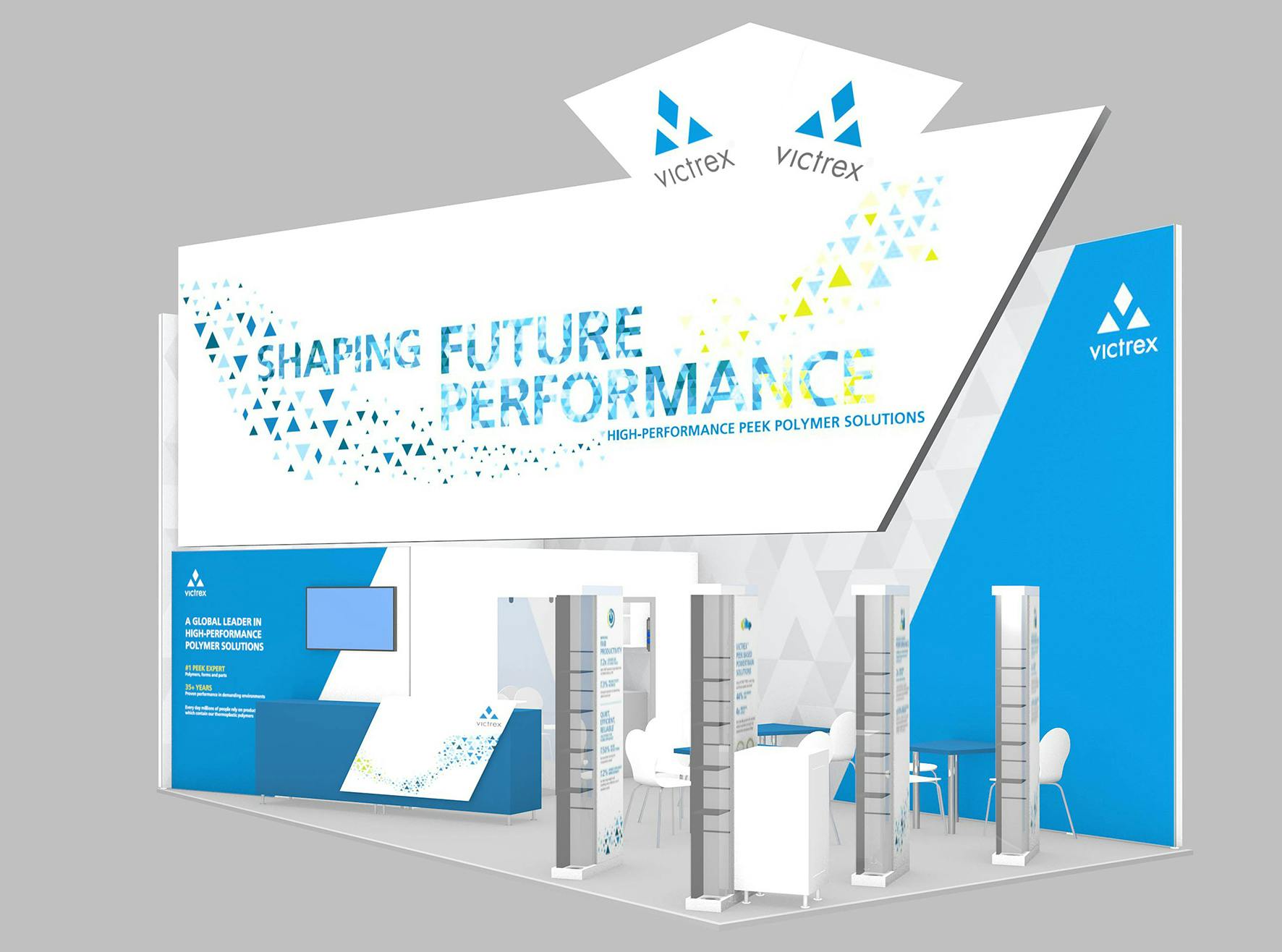 "Innovator" and "solutions provider" may seem overused these days. However, they exactly describe Victrex´s portfolio and services based on the high-performing Polyaryletherketone (PAEK) polymers on which the company has focused ever since it was established. Today, thermoplastics of this family, and in particular VICTREX™ PEEK, are used in countless applications, spanning aerospace, automotive, electronics, energy, manufacturing & engineering and medical.
Food & Beverage: Advancing applications based on new VICTREX FG food grade portfolio

To help OEMS to meet the stringent regulatory and quality demands affecting the food equipment industry, Victrex is introducing a dedicated PEEK food grade portfolio at the Fakuma show. Compared to metals, the new "VICTREX FG™" family of high-performing thermoplastics offers additional benefits in terms of cost-effectiveness, productivity and performance for OEMs – and the neutral taste expected by consumers. Applications range from cookware and beverage dispensers for commercial and domestic use to industrial applications involving food-contact components in conveyor systems, aseptic processing, sensors, gears and nozzles. A "Forum" presentation during Fakuma on "3 Things to Consider for Reliable, Regulatory-Compliant Food Applications" will provide further insights (Wednesday, 17 Oct, 15:40-16:20, Conference Centre West, room Paris).
Electronic appliances: lighter vacuum cleaner components with enhanced durability enabling lower noise and increased energy efficiency

In home appliances, the high-performance polymer has allowed designers to explore new approaches to the design of smaller, yet powerful, vacuum cleaner components. The ability to injection mould VICTREX PEEK to produce high engineering tolerance parts that are able to cope with high speeds, in some cases faster than 100,000 rpm (noting that jet engines only rotate at 15,000 rpm), whilst noise can be reduced by up to 50%, is impressive. The material´s high stiffness-to-weight ratio also allows the impeller to maintain its shape at these high speeds, potentially resulting in stronger suction compared to more ductile materials. In addition, when replacing machined metal parts it can enable reductions in the weight of parts, thus reducing the size of motors and the components needed, and is resistant to a wide range of household chemicals, and heat and moisture. Injection moulding contributes to potential cost savings for manufacturers compared to the machining parts from metals, and it also enables the rapid scaling up of new designs, shortening time to product launch and allowing faster, less capitally intensive, scaling up of manufacture.
Automotive E-motors: Will APTIV™ film end the quest for the ideal slot liner material?

With the automotive industry transitioning to electric vehicles, the quest for more efficient high-density e-motors and lower cost is still on. Most motor manufacturers have opted to use the Permanent Magnet Synchronous Machine (PMSM) since this type of motor has a higher efficiency and occupies less volume compared to other types of e-motors. As the PMSM is designed to cut off at temperatures that threaten to damage its internal insulation, thermal management is a crucial performance factor for e-motors for electric vehicles – the design of the insulating system is, clearly, instrumental.
In search of the "dream" slot liner insulator, Victrex engineers undertook a simulation of replacing a 250-micron meta-aramid-PET-laminate slot liner material with 150-micron PEEK polymer based APTIV™ film. This simulation used a 40% thinner and more thermally conductive thermoplastic slot liner film which was shown to enable improved heat flow from the wire windings to the stator iron and outer-water-jacket cooling system. Additional simulations have shown the excellent thermal conductivity of APTIV™ film which enables improved thermal management and reduction of peak winding temperatures by 2-3°C compared to traditional laminates and helps the e-motor stay cool. With improved thermal management and thinner slot liners the simulations observed a potential increase in copper density (i.e. the slot-fill factor) of 2%. Last but not least, the simulations found a 5% increase in continuous torque output – this could translate into higher power output for a same-size machine.
Gearing up with PEEK polymers in powertrain applications

In automotive, VICTREX PEEK is already frequently used in powertrain components such as seal rings, thrust washers, bushings and bearings, whereas gears in demanding powertrain applications sound a rather unlikely candidate for metal-replacement by the polymer. However, with smaller and downsized engines, NVH (noise, vibration, harshness) is, today, one of the biggest challenges for OEMs and Tier1s, and Victrex´s polymer gear solutions have shown a reduction in rattle and noise issues in engine applications by up to 50% (3dB). Compared to powdered metal gears, the weight and moment of inertia is also considerably lower with VICTREX HPG™ gears, contributing to higher system efficiency.
Game-changing composite solutions for aerospace

At the Fakuma show Victrex will also display a variety of VICTREX™ PAEK-based composite and hybrid overmoulded composite parts for use in Aerospace. The company is currently partnering with customers to meet their engineering challenges through the use of innovative solutions that offer continuous manufacturing processes and cycle times measured in minutes versus hours for thermoset alternatives. Compared to their thermoset counterparts, which are in frequent use today, thermoplastic composites are vital to drive Aerospace build rates. To build the necessary supply chain, Victrex is also investing in a joint venture, TxV Aero Composites, with long-standing development partner Tri-Mack Manufacturing.
PEEK turns 40: reasons behind the success of a relatively young HPP

The inert properties of the versatile PAEK polymers are one of the main reasons for its success. This family of polymers is ideally suited to extreme and demanding environments. Whilst alternative materials can meet specific needs, PAEKs/PEEKs are located at the top of the polymer pyramid and can support multiple requirements. Their properties include light weight, high strength, and high resistance to wear, temperature, fatigue and aggressive fluids/chemicals. Together, they can contribute to enhanced fuel efficiency, extended part life, greater comfort (smooth operation, less noise), more design freedom and greater cost efficiency.
The second important reason is that Victrex decided to strategically focus on this particular family of PAEK HPPs. As a result, over the last four decades, pioneering material developments, strategic decisions and close cooperation with customers set a course that arrived at, and then moved beyond, many milestones. Having achieved that progress, today Victrex continues "to shape future performance" with its PAEK/PEEK solutions, and that unwavering commitment to innovation and success will be the focus and overarching motif at the company´s Fakuma booth (Hall A4 – Booth 4106). It will also cast a first glow on PEEK's 40th anniversary in November.
Visit Victrex at Fakuma in Hall A 4, Booth 4106
Listen to Richard Leibfried at Fakuma on "3 Things to Consider for Reliable, Regulatory- Compliant Food Applications", Wednesday, Oct 17, 2018, 15:40-16:20 in the Fakuma "Forum", Conference Centre East, Room Paris
1) Polyaryletherketone or PAEK is the name of a family of high-performance thermoplastics such as Polyetheretherketones or PEEK.
You may also be interested in...