"Becoming part of a team of pioneers" – the second FDA clearance of a device composed of PEEK-OPTIMA HA Enhanced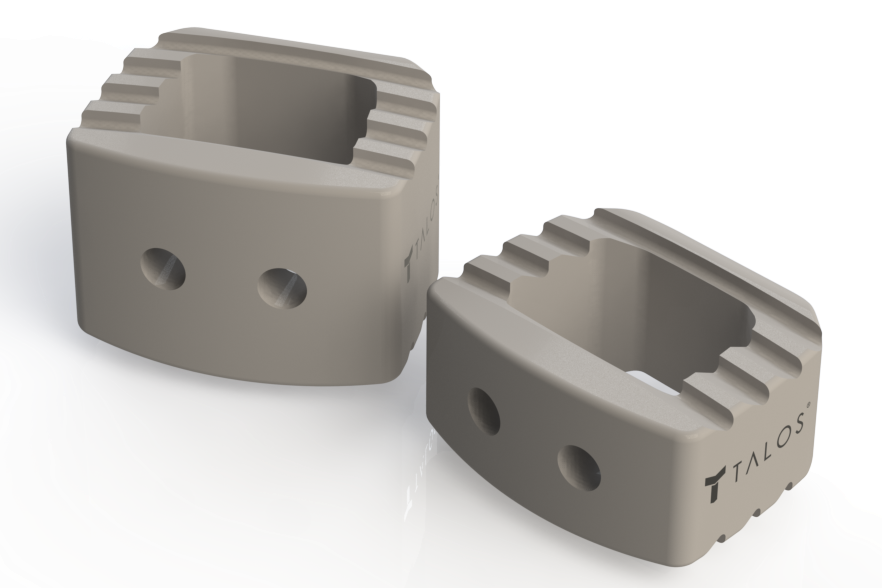 Thornton Cleveleys (UK) – Meditech Spine, Atlanta/USA has received the US Food and Drug Administration (FDA) 510(k) clearance to market the next generation of its Talos™ line of interbody devices. These cervical intervertebral fusion devices rely on the novel implantable polymer from Invibio Biomaterial Solutions, PEEK-OPTIMA™ HA Enhanced. The new material solution enables the medical device manufacturer to maintain the same design features of the existing implants.
The cages are intended for use in skeletally mature patients with Degenerative Disc Disease (DDD) of the cervical spine at one level from C2-T1. Talos™-C (HA) Cervical Intervertebral Body Fusion (IBF) devices are intended to be used with autologous bone graft to facilitate fusion. PEEK-OPTIMA HA Enhanced as the novel material for these interbody cages contributes to the fusion process, as it is strong, versatile and based on PEEK-OPTIMA polymer compounded with hydroxyapatite (HA), a well-known osteoconductive material for enhancing bone apposition.
"Give surgeons and their patients the best"
"Our goal is to partner with industry leaders across all spectrums and we are excited to be a part of this pioneering material and process", Bob Wolownik, Vice President of Sales at Meditech Spine noted. The company extensively looked at the PEEK-OPTIMA HA Enhanced data and discussed its characteristics with many surgeons. Research helped steer the decision at Meditech Spine to add the unique, enhanced polymer to the product portfolio. "The osteoconductive hydroxyapatite component is more than just a surface coating or texture. It is completely integrated throughout the polymer and consequently throughout the implant. From our research and discussion with surgeons, we determined an implant that increases intimate bony contact with natural patient anatomy, and an interbody that enhances the healing process throughout the whole implant, was the best alternative. We feel this gives our surgeons and their patients the best of both worlds; PEEK-OPTIMA, a proven polymer with a modulus of elasticity close to human bone plus HA, a material that enhances the grafting materials used by surgeons. We have extensive experience with our Talos™ line of IBF's and look forward to adding this to our cervical interbody portfolio."
Invibio supported and provided guidance and data to Meditech Spine for preparation of the 510(k) submission. Like PEEK-OPTIMA Natural used for the first Talos™ interbody implants, PEEK-OPTIMA HA Enhanced offers artifact-free imaging, allowing visual assessment of the fusion mass. It has demonstrated its performance in pre-clinical studies, with superior new bone formation and quality of new bone bridging compared with PEEK-OPTIMA Natural at early time points.1 A previous study that evaluated the bone on-growth of the two implantable polymers in a bone defect model in sheep, revealed that PEEK-OPTIMA HA Enhanced resulted in approximately 75% direct bone apposition as early as four weeks following implantation.2
The increasing adoption of Invibio's PEEK-OPTIMA HA Enhanced has also been observed outside the US. In the European Union, two implants made from the PEEK-OPTIMA HA Enhanced implantable polymer have received the CE mark (European) approval, which is necessary for distributing products within the European Free Trade Association (EFTA) and the European Union.
For further information please visit Meditech Spine on www.meditechspine.com
1. Study evaluated the in vivo response in a cervical spine fusion model in sheep. Study did not use Meditech Spine products. Data on file at Invibio. This has not been correlated with human clinical experience.
2. Study evaluated bone ongrowth in a bone defect model in sheep. Study did not use Meditech Spine products. Data on file at Invibio. This has not been correlated with human clinical experience.
Invibio™, a Victrex plc company, is a global leader in providing high performance biomaterial solutions to medical device manufacturers. The company provides PEEK-OPTIMA™ polymers, advanced technical research and support and manufacturing of components for spine, trauma and orthopaedic medical segments for the development of long implantable medical devices. Today, Invibio's PEEK-OPTIMA™ polymers are used in more than five million implanted devices worldwide.
Meditech Spine, LLC
Bob Wolownik, Vice President of Sales
bwolownik@meditechspine.com, phone: 678-974-5287