In response to popular demand, Invibio Biomaterial Solutions is releasing its JUVORA™ dental disc made from PEEK-OPTIMA™ in the US, in Oyster White for the first time. The new colour option complements the JUVORA™ Natural version, which is already available in the US market. The Oyster White dental disc will launch with live demonstrations at LMT Lab Day Chicago in February, a leading US trade expo for dental lab products and equipment.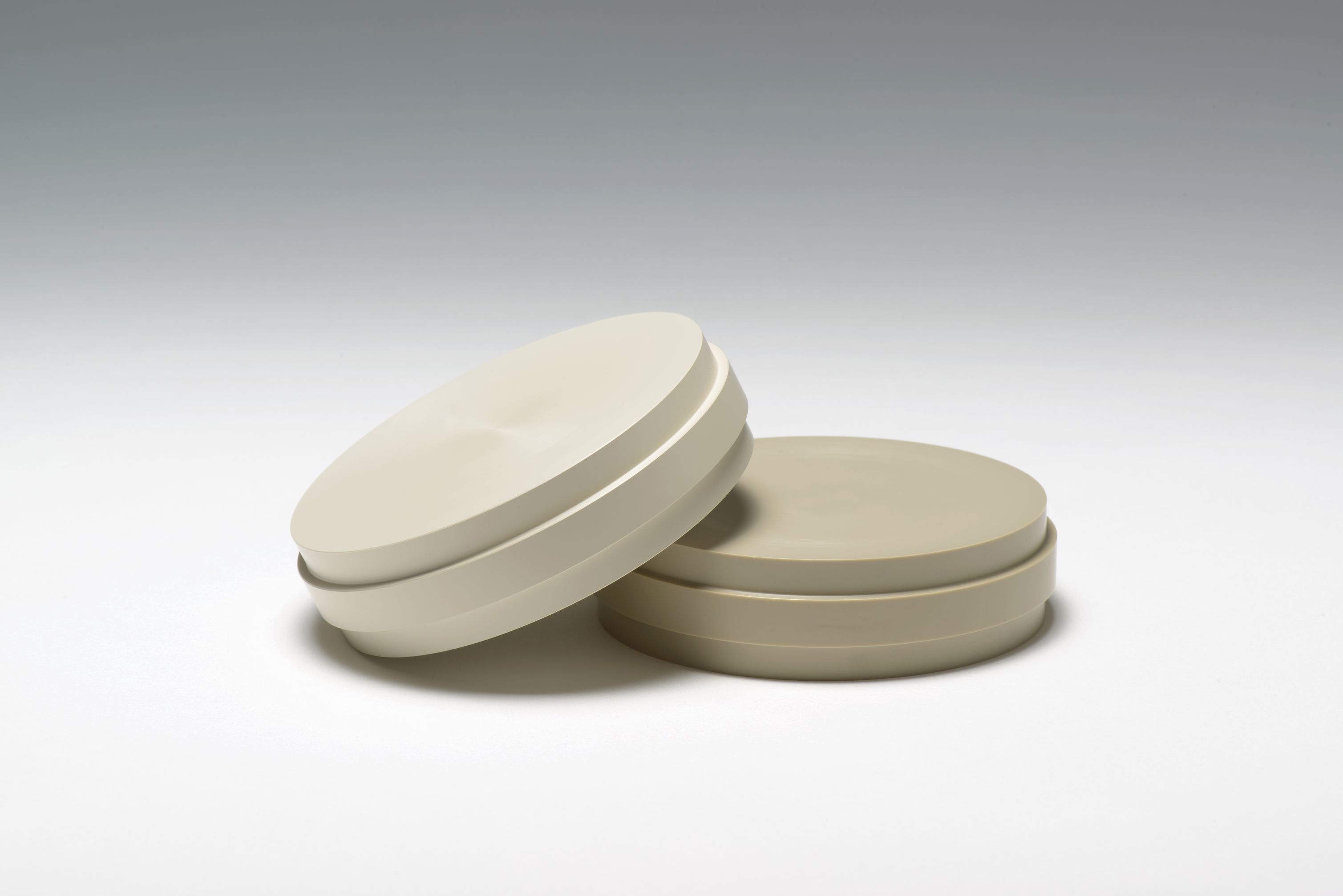 Dental professionals now have the choice of working with a whiter and brighter high-performance polymer solution. Both JUVORA Oyster White and JUVORA Natural have 510(k) clearance by the US Food and Drug Administration and offer an alternative to zirconia or metal substructures for fixed and removable dental implant applications.
Attractive appearance combined with functionality
"Functionality isn't the only goal for our customers, when they select a dental prosthetic," noted John Devine, Medical Business Director at Invibio Biomaterial Solutions. "Feedback from dentists, OEMs, and distributors has indicated they want a colour choice for when improved aesthetics are needed. Technicians are also finding that the white coloured PEEK can serve as an ideal base for finishing and polishing the prosthetic to provide an overall look that is closer to natural dentition."
Previously only available in Europe, JUVORA Oyster White retains all the proven biocompatible benefits of JUVORA Natural, including bone-like resilience, strength and shock absorption. An advantage shared by all products in the JUVORA range is that they are made from PEEK-OPTIMA™, an implantable high-performance PEEK (polyetheretherketone) polymer from Invibio Biomaterial Solutions. As such, it does not contain a high filler content and therefore does not suffer from the increased brittleness that some high-performance polymers with a relatively high filler content can experience.

Certified Dental Technician finishing prosthetics made from JUVORA Oyster White on Invibio booth
The JUVORA disc is a CAD/CAM millable blank offering dental professionals, all the time- and cost-efficiency of digital processing. At LMT Lab Day Chicago, 21-23 February, 2019, Roger Dawson CDT, Director of Technical Services at Invibio will be finishing prosthetics made from JUVORA™ Oyster White on Invibio Biomaterial Solutions' Booth A-49.
For more information on the JUVORA™ dental disc, visit https://invibio.com/components/dental-disc or visit Invibio Biomaterial Solutions at LMT Lab Day Chicago, 21-23 February, 2019 on Booth A-49.

About Juvora
Juvora Limited is the legal manufacturer of the JUVORA dental disc and alongside Invibio (see below) is part of the Victrex plc group of companies (see below). The JUVORA solution can be used as a metal or zirconia alternative for long-term implant borne, fixed and removable prosthetic frameworks made with precision through CAD/CAM workflows. It is made from Invibio Biomaterial Solutions' PEEK-OPTIMA™ high performance polymer. Find out more at www.invibio.com/dental

About Invibio Biomaterial Solutions
Invibio, part of the Victrex plc group of companies, is a global leader in providing high-performance biomaterial solutions to medical device manufacturers. The company provides PEEK-OPTIMA™ polymers, advanced technical research and support and manufacturing of components for spine, trauma and orthopaedic and dental medical segments for the development of long-term implantable medical devices. Today, Invibio's PEEK-OPTIMA™ polymers are used in approximately 9 million implanted devices worldwide.
JUVORA™, INVIBIO™, PEEK-OPTIMA™, INVIBIO BIOMATERIAL SOLUTIONS™ are trademarks of Victrex plc or its group companies. All rights reserved. Find out more at www.invibio.com