At the European Association of Osseointegration (EAO) Congress, held in Vienna, dental clinicians [1] from the MALO CLINIC, Lisbon, reported positive results when JUVORA™, a PEEK polymer-based solution, replaces traditional metal and ceramic materials. Their findings were those of a two-year follow-up study [2] of dental restorations implemented according to the clinic's All-on-4® concept*, using JUVORA full-arch implant supported prostheses on edentulous patients.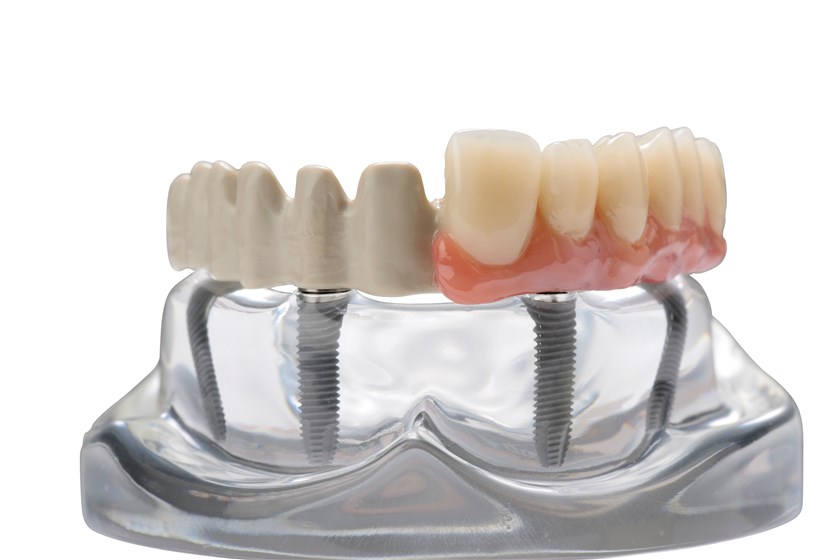 A total of 37 patients (29 women, 8 men) with an average age of 60 years (range: 38-78 years) were treated between May 2015 and October 2016. At the second year of follow-up, the early indications are for positive outcomes. Use of the JUVORA prosthetics resulted in:
• Low mechanical and biological complications, compared to metal
• A high rate of prosthetic and implant survival
• Low marginal bone loss
• Less inflammation than with metal implants
Evaluations by the patients themselves were also very positive, with 88% of patients reporting that their prosthetic fulfilled their expectations of "in mouth comfort" and 84% of patients felt that their "overall chewing feeling" was as expected when chewing their food.[3] In contrast to that, similar evaluations for metal-acrylic resin mandibular full-arch implant-supported fixed prostheses reported a 79% patients´ satisfaction, both for the improvement in the ability to chew and the fulfilment of expectations.[4]
The MALO CLINIC study concludes that, full-arch hybrid PEEK-acrylic resin implant-supported prostheses may be a valid treatment option. Its validity in implant dentistry can be fully attested after a longer follow-up.
JUVORA, PEEK-based dental disc enables presision and efficiency
The MALO CLINIC's protocol was to produce a screw-retained framework manufactured from a JUVORA dental disc, following CAD/CAM processing to adapt it to multiunit abutments.
"JUVORA prosthetics offer dental clinicians numerous advantages," commented John Devine, Medical Business Director at Invibio Biomaterial Solutions. "Using the potential of CAD/CAM milling for example now enables PEEK-based solutions to be milled precisely and efficiently potentially offering a new level of precision and efficiency in both design and implementation. Helping to improve clinical outcomes with PEEK is Invibio's goal, and we're very excited to see the MALO CLINIC clinical results at this time point. Using PEEK in their All-on-4 procedure has meant a major improvement in the quality of life of edentulous patients, and this data reinforces the direct feedback we're hearing from dentists. It also supports the growing interest in and adoption of JUVORA prosthetics."
Non-metal alternative in full-arch restoration in the future?
The study team emphasise that in the field of dentistry, PEEK has been used over the last decade in healing caps and temporary abutments. They conclude its biocompatible nature is, therefore, proven, commenting, that such a material could be interesting for use in full-arch restorations as a non-metal alternative.
The JUVORA dental disc is made entirely of implantable PEEK-OPTIMA™ polymer from Invibio Biomaterial Solutions. This implantable PEEK polymer possesses a number of outstanding properties, note the authors of the study, including biocompatibility, biostability, and compatibility with medical diagnostic imaging, that together indicate a favourable potential for metal replacement in dental prosthetics. In addition, PEEK provides superior chemical stability, mechanical behaviour, shock absorption, and wear resistance, and therefore it is well suited to the demanding environment encountered by medical devices. In addition, its shock absorbing characteristics are superior to those of metal [5], while maintaining the possibility of CAD/CAM manufacture.
Further information is available at https://www.invibio.com/dental

* All-on-4® is a registered trademark of Nobel Biocare.


References
1. Carlos, G., Nobre, M., Silva, A. and Jarman-Smith, M. (2018). What if a prosthetic frame could influence quality of life?. In: European Association of Osseointegration Congress. Vienna.
2. "Short-term report of an ongoing prospective cohort study evaluating the outcome of full-arch implant-supported fixed hybrid polyetheretherketone-acrylic resin prostheses and the All-on-Four concept"; Authors: Paulo Maló DDS, PhD, Miguel de Araújo Nobre RDH, MSc Epi, Carlos Moura Guedes DDS, Ricardo Almeida DDS, António Silva CDT and João Legatheaux CDT of the Malo Clinic, Lisbon, together with Nuno Sereno PhD of Invibio Biomaterial Solutions
3. Based on a visual analogue scale between 0 (poor) and 10 (excellent) and "overall chewing feeling", defined as the patients' feeling when chewing food in their daily food intake routines related to the ability to chew any type of food and measured
4. Kennedy K, Chacon G, McGlumphy E, Johnston W, Yilmaz B, Kennedy P. Evaluation of patient experience and satisfaction with immediately loaded metal-acrylic resin implant-supported fixed complete prosthesis. Int J Oral Maxillofac Implants. 2012;27: 1191-1198.
5. Based on the tendency of a material to deform when opposing forces are applied as expressed by the avg. elastic (Young's) modulus values of the two materials (Titanium 110 GPa or PEEK 4GPa).


About Juvora
Juvora Limited is the legal manufacturer of the JUVORA dental disc and alongside Invibio (see below) is part of the Victrex plc group of companies (see below). The JUVORA solution can be used as a metal alternative for long-term implant borne, fixed and removable prosthetic frameworks made with precision through CAD/CAM workflows. It is made from Invibio Biomaterial Solutions´ PEEK-OPTIMA high performance polymer. Find out more at www.juvoradental.com

About Invibio Biomaterial Solutions
Invibio, part of the Victrex plc group of companies, is a global leader in providing high-performance biomaterial solutions to medical device manufacturers. The company provides PEEK-OPTIMA™ polymers, advanced technical research and support and manufacturing of components for spine, trauma and orthopaedic and dental medical segments for the development of long-term implantable medical devices. Today, Invibio's PEEK-OPTIMA™ polymers are used in approximately 9 million implanted devices worldwide.
JUVORA™, INVIBIO™, PEEK-OPTIMA™, INVIBIO BIOMATERIAL SOLUTIONS™ are trademarks of Victrex plc or its group companies. All rights reserved. Find out more at https://invibio.com/