Largest ever VICTREX™ PEEK-based structure designed to deliver subsea pumping reliability in today's extreme subsea Oil & Gas operations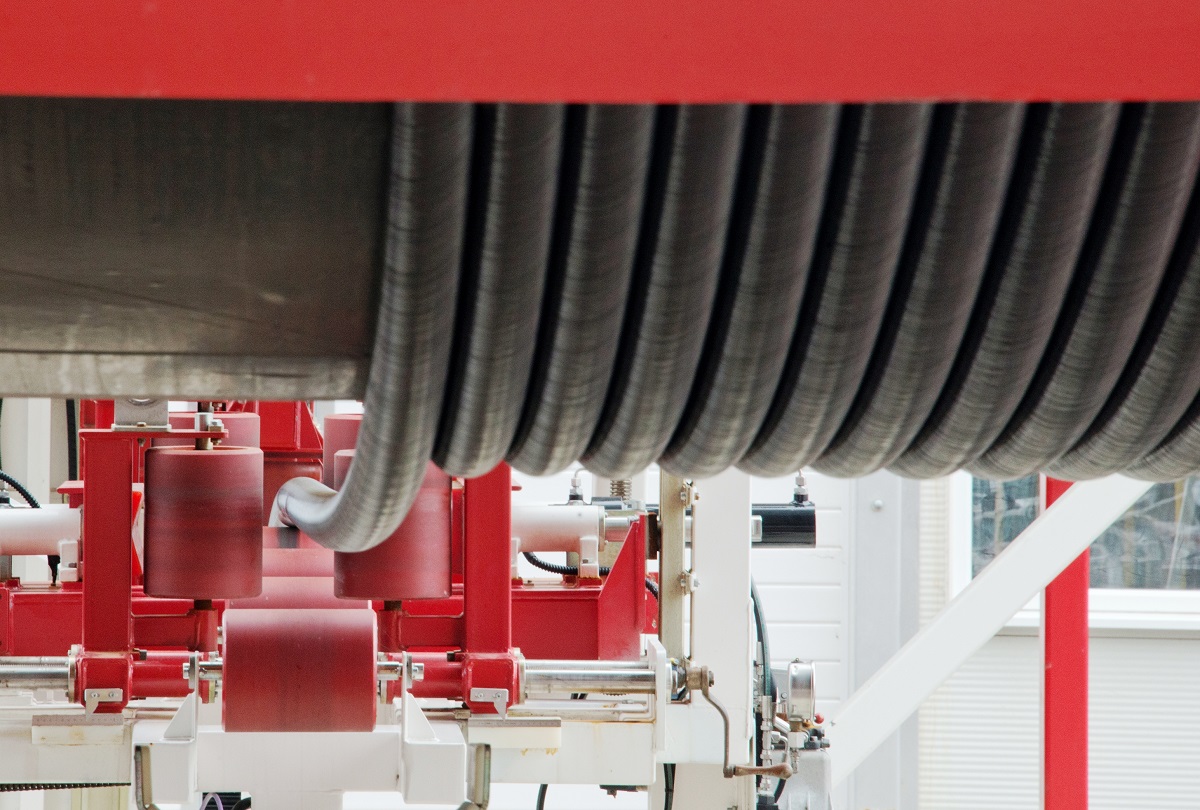 Thornton Cleveleys (UK), 26 April 2016 – To reduce exploration and production costs and risks in subsea oil and gas systems, Magma Global Limited has developed the flexible m-pipe™ technology. Their latest lightweight continuous pipe is both the largest and longest VICTREX™ PEEK-based structure ever, achieved with the support and expertise of Victrex. It can be deployed to depths of 10,000 feet (3,000 metres) and handle pressures of up to 15ksi (kilopounds per square inch). The composite pipe combines VICTREX™ PEEK, high-grade carbon fibre and S-2 glass fibres to form a reliable subsea intervention line that meets the demand for a hydraulic pumping system that can handle high pressures and high flow rates.
Charles Tavner, Commercial Director at Magma Global Limited, explains in the run up to the Offshore Technology Conference in Houston: "Thanks to partnering with Victrex, we have been able to successfully develop our 10,000 foot solution for hydraulic pumping and light well intervention in the Gulf of Mexico. VICTREX PEEK polymer's high performance, and their material and processing expertise, has supported the new record-breaking flexible and spoolable m-pipe™ for the oil and gas industry."
Magma is offering its m-pipe™ and integrated deployment package as a vessel back-deck system for rapid hydraulic light well intervention. The Magma deployment system has a modular reeler with m-pipe™ intervention line pipe handling system, built-in tensioner, level wind, controls cabin, hydraulic power unit, installation platform and winch, for rapid pipe deployment and retrieval. The m-pipe™ is a composite material based on VICTREX™ PEEK polymer, carbon and glass fibres that delivers low fatigue, improved buoyancy in fluids and high resistance to corrosion compared to steel pipe.
"In oil and gas exploration the continuous need to extend scope and efficiency motivates us to develop reliable solutions further. In close collaboration with customers we consequently contribute to solve the toughest challenges", explains Tom Swanson, Energy Director at Victrex. By specifying high-performance PEEK composites and polymers that Victrex has developed for this program, the m-pipe™ in the new Magma deployment system offers:
Capability to handle high temperatures
Ability to deal with pressures up to 15ksi
Deep water capability down to 10,000 feet (3,000 metres)
Excellent fatigue life for thousands of reliable deployments
Light weight for ease of installation and reduced pipe stress
Smooth PEEK bore for efficient and rapid flow of intervention fluids
Resistance to well completion and stimulation fluids and gases for operational reliability
Cost reduction and efficiency increase
"Our VICTREX PEEK-based m-pipe™ and deployment system offers regular, reliable low-cost hydraulic well intervention, and can be rented as a complete deployment package from Magma, on either a short-term campaign or annual contract basis. m-pipe™ reduces the cost of intervention at a time when the oil and gas industry is extremely challenged on operational costs, and is also striving to achieve efficiency and reliability. The Magma system is designed to minimise mobilisation time and maximise vessel utilisation by reducing hydraulic pumping time, reducing intervention costs by up to 30%," says Tavner.
Magma's 'integrated package' approach provides the ability to intervene in subsea completions continuously and efficiently, to maximise their ongoing productivity. The Magma system and high performance m-pipe™ allows for flexible high pressure and high-flow-rate pumping of intervention fluids into subsea wells from small vessels.
Victrex and Magma at OTC
At the Offshore Technology Conference (OTC) – May 2-5, in Houston, Texas, a Magma sample will be on display at the Victrex booth, No. 5423. The display will also include solutions for high-temperature subsea connectors in the form of VICTREX™ ST™ polymers. The thermoplastic has been used as an insulating material in subsea connectors for several years, particularly where a combination of high-temperature mechanical performance and dimensional stability is required. The unfilled polymer offers improved mechanical and electrical performance compared to VICTREX™ PEEK 450G™ polymer, especially in the temperature range of 150°C (302°F) to 200°C (392°F), while reinforced grades enable performance up to 383°C (720°F).
Magma will deliver a technical paper, "Qualification of Composite Pipe," by Jonathan Wilkins (Qualifications Manager, Magma), on Wednesday, May 4, at 3:50pm in Room 604. To learn more about Magma m-pipe performance, please visit www.magmaglobal.com/m-pipe-peek-performance
m-pipe™ is a registered trademark of Magma.
VICTREX™ is a registered trademark of Victrex.
About Magma Global Limited
With offices in the UK, US, Angola and Saudi Arabia, Magma's mission is to deliver the world's most reliable risers, jumpers and intervention lines for subsea exploration and production.
Magma manufactures m-pipe™, a unique high quality, high strength and low weight carbon and VICTREX PEEK polymer pipe with a monolithic structure from bore to surface. m-pipe™ provides superior performance in deep water and harsh offshore conditions, delivering significant reductions in risk and cost for offshore field development and operation.
Founded in 2009 by its management team, in 2010 Magma Global Ltd received additional backing to accelerate its growth programme from Calgary-based Azimuth Capital Management and Copenhagen-based NES Partners. BGF Plc and SICP LLP have since joined our investor group, providing additional capital to support significant manufacturing capacity expansion.