Collaboration achieves first deployment of Denroy brackets in commercial aircraft, with a weight reduction of at least 40%.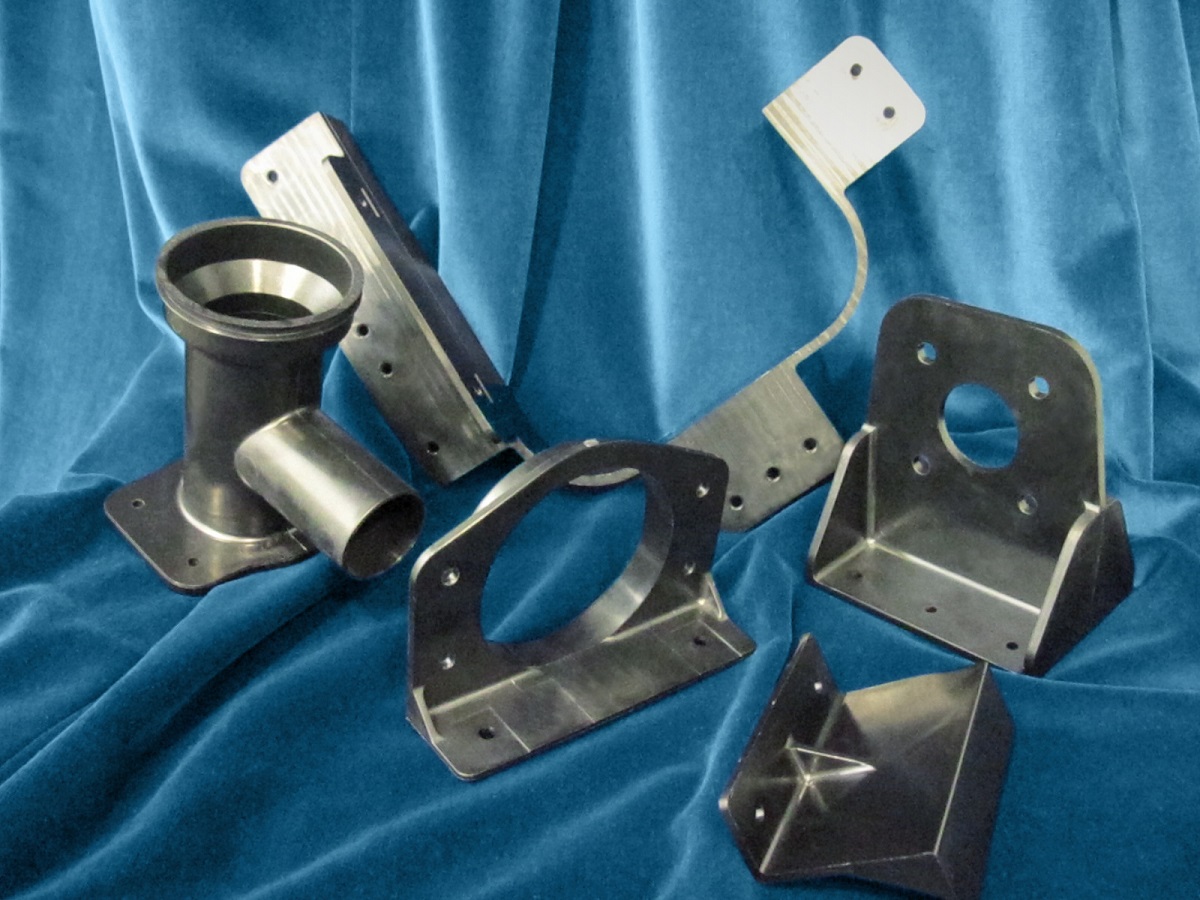 Thornton Cleveleys (UK) – A new bracket technology suitable for use in hydraulic and fuel brackets for the wings, centre box and fuel tanks of aircraft can result in significant weight reduction of at least 40% compared to metals. Enhancing the fuel economy of aircraft further, along with cost savings and streamlined manufacturing, has been a principal driver for the bracket manufacturer Denroy Plastics Ltd. The UK-based precision plastics injection moulding specialist developed the optimized brackets in close collaboration with Bombardier and Victrex. Made of an electrostatically dissipative
VICTREX™ PEEK
grade, VICTREX™ PEEK-ESD™ polymer, with proven performance in harsh environments including aggressive aerospace fluids, the Victrex solution is for the first time specified in commercial aircraft, i.e. Bombardier's CSeries, Global and Learjet aircraft.
The ambitious target was clearly defined: To replace small to medium-sized machined aluminium and titanium brackets intended to last for the life of the aircraft even though many of these brackets are constantly immersed in fuel. In addition to developing a reliable solution, weight and cost savings were keys to success. With cost savings and streamlined manufacturing among the advantages of using injection-moulded polymers, the new bracket technology is now being introduced to the aircraft industry.
Denroy has adopted a consistent approach to replacing metal brackets with Victrex´s high performance polymer solution. "Here at Denroy, we've invested in a manufacturing cell solely dedicated to the production of PEEK brackets. We have now developed optimised moulding processes and invested in new equipment. Victrex´s advice and support have been very valuable in the delivery of a durable bracket weighing at least 40% less than the metal design," noted Jim Knowles, Sales & Marketing Manager at Denroy Plastics, who sees PEEK aerospace brackets as a growth area for Denroy going forward.
For Bombardier, the new bracket technology results in significant cost savings in fuel, and consequently helps to benefit the environment through lower CO2 emissions. In addition, cost savings during manufacturing can be achieved due to consolidated parts, integration of complex shapes and geometries, elimination of secondary processing (e.g., machining and painting), as well as by reducing both scrap material and production time.
"Victrex is committed to address specific challenges in
aerospace
such as weight reduction and simplified manufacturing by providing a range of PEEK grades that enable this, including the VICTREX PEEK-ESD™ polymer. The proven track record of Denroy in the automotive industry has enabled them to adapt their knowledge and experience to the design and production of aerospace components", says Tim Herr, Aerospace Strategic Business Unit Director at Victrex. Victrex is known for its PAEK-based solutions specified for use in aerospace and has just recently introduced a new hybrid moulding technology for loaded brackets.
In the case of the Denroy brackets, to support design freedom – a critical feature if the brackets were to be optimised to their fullest extent – Victrex used special fillers, which do not break down under shear, i.e. when passing through the restricted gate opening. This allows mouldings to be produced under the optimum moulding conditions without affecting the electrostatic discharge properties of the components.
VICTREX PEEK meets a number of engineering requirements for aerospace, including stiffness, a low coefficient of friction and high resistance to wear – all in addition to its ability to withstand aggressive chemical environments. The PEEK-based polymer flows easily and its performance is not influenced by moulding conditions, provided that the recommended processing conditions are rigorously followed.
About Denroy
Denroy Plastics Ltd. specialises in the design and manufacture of injection moulded components for a wide range of industry sectors, including the aerospace and defence sectors. The lightweight strength of injection mouldings is evident in structural wing and air frame assemblies, cabin interiors and even the cockpit of many civil and military aircraft. With a comprehensive range of on-site facilities, Denroy provides a complete package of product design through to assembly and forward shipment. Stock reduction programs such as JIT, KANBAN, and KITSETS further enhance the service package offered to customers. For further information, visit Denroy online at
www.denroy.com
.