Upgraded status supports Victrex strong sustainability agenda
Thornton Cleveleys (UK), 30, September 2021 – Victrex plc has been awarded a GOLD Sustainability Rating, by EcoVadis, the leading specialist in monitoring sustainability. EcoVadis ranked Victrex in the top 5% of companies assessed.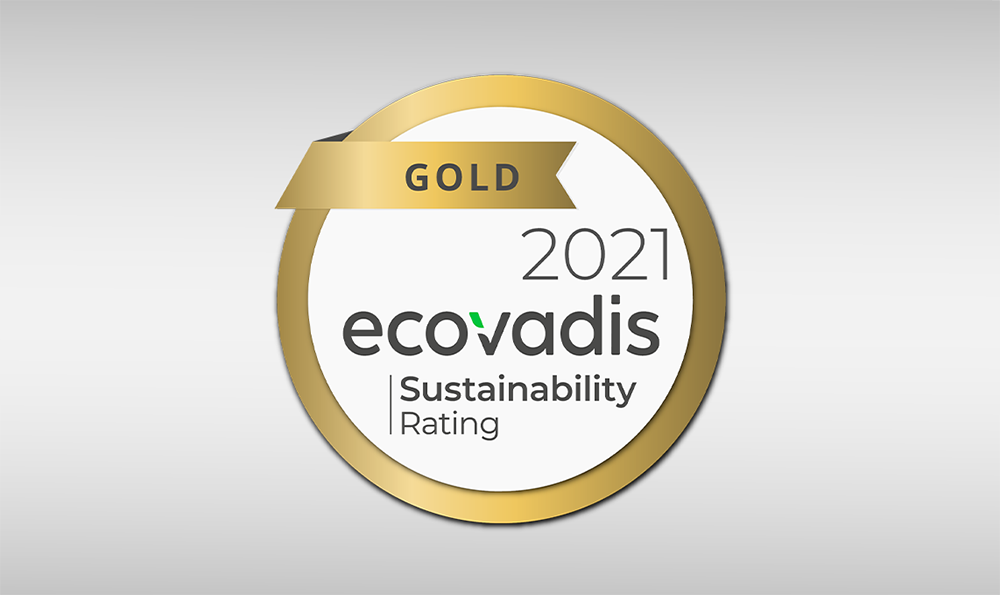 Victrex receives Ecovadis Gold Sustainability Rating 2021
Previously rated silver, the advancement to Gold is an indicator of Victrex's commitment and progress towards addressing world material challenges through transformational and sustainable solutions. "Naturally, at Victrex we're very proud that our efforts have been recognised through EcoVadis' independent assessment", commented Jakob Sigurdsson, CEO at Victrex. "Victrex has a strong sustainability agenda, with ambitious goals, including to be net zero by 2030. The change in status is a positive indicator that the tremendous effort to improve is paying off. Assessment by EcoVadis involved undergoing a thorough examination, putting Victrex under the microscope as an organisation, and I think this Gold Medal reflects well on what our team at Victrex does, and perhaps more importantly, how we do it."
EcoVadis uses both innovative technology and its sustainability expertise to engage with companies and help them adopt sustainable practices throughout their global supply chains. Its guiding concept of sustainability is an integration of social and environmental concerns, as reflected in the commitment on the part of those companies it monitors, to responsible practices as a fundamental ethical framework for their business operations. This is not simply a question of regulatory compliance but of relationships, whether with employees, trading partners or government. Sustainability criteria for EcoVadis's assessment span a comprehensive range of areas, including energy consumption, biodiversity, customer health and safety, labor and HR, ethics, and procurement.
Importantly for Victrex, the attempt to reach high levels of sustainability won't be stopping with this Gold Medal. Rather, the company regards it very much as a continuous ongoing process.
About Victrex
Victrex is an innovative world leader in high-performance PEEK and PAEK polymer solutions focusing on the strategic markets of automotive, aerospace, energy (including manufacturing and engineering), electronics and medical. Every day, millions of people use sustainable products and applications containing our materials – from smartphones, aeroplanes and cars to oil and gas operations and medical devices. With over 40 years' experience we are developing world leading solutions with PEEK and PAEK-based polymers and selected semi-finished and finished parts which shape future performance for our customers and our markets, deliver environmental and societal benefits, and drive value for our shareholders. Find out more at www.victrex.com
Contacts
Victrex Media Contact
Melanie Embery, Head of Marketing Communications
media@victrex.com, Tel. + 44 1 253 898 020
Corporate, Financial Media or Investor Relations Enquiries
Andrew Hanson, Director of Investor Relations & Corporate Communications
ahanson@victrex.com, Tel. +44 1253 898 121
Victrex plc and/or its group companies (Victrex plc) believes that the information contained in this press release is an accurate description of the typical characteristics and/or uses of the product(s) and is based on information that we believe is reliable. However, it is provided for information only. It is not intended to amount to advice on which you should rely and should not be construed as, or used as a substitute for other professional or specialist advice. In particular, it is the customer's responsibility to thoroughly test the product in each specific application to determine its performance, efficacy, and safety for each end-use product, device or other application. Suggestions of product uses should not be taken as inducements to infringe any particular patent. Mention of a product in this document is not a guarantee of its availability.
Victrex plc reserves the right to modify products, specifications and/or packaging as part of a continuous program of product development. Victrex plc makes no warranties, express or implied, including, without limitation, a warranty of fitness for a particular purpose or of intellectual property non-infringement, including but not limited to patent non-infringement, which are expressly disclaimed, whether express or implied, in fact or by law.
Further, Victrex plc makes no warranty to your customers or agents, and has not authorised anyone to make any representation or warranty other than as provided above. Victrex plc shall in no event be liable for any general, indirect, special, consequential, punitive, incidental or similar damages, or any damages for harm to business, lost profits or lost savings, even if Victrex has been advised of the possibility of such damages regardless of the form of action. The foregoing does not seek to affect our liability in respect of: (i) death or personal injury arising from our negligence; (ii) fraudulent misrepresentation; (iii) product liability or other consumer remedy claims brought by an individual consumer in relation to our products; (iv) nor any other liability which cannot be excluded or limited under applicable law.
© 2020 Victrex plc. VICTREX™, APTIV™, VICOTE™, VICTREX PIPES™, VICTREX HT™, VICTREX ST™, VICTREX WG™, VICTREX FG™, VICTREX HPG™, VICTREX AE™, VICTREX CT™, VICTREX AM™, APTIV DBX™, ZYEX™ Fibres and SHAPING FUTURE PERFORMANCE™ are trademarks of Victrex plc or its group companies. All rights reserved.

Supporting information on all claims is available upon request from Victrex.