US$1 million investment enhances services for Victrex customers throughout Asia
---
Thornton Cleveleys (UK), Shanghai (China), 25 March 2021 – With an absolute commitment to its customers in China and Asia, Victrex is determined to extend the impressive record of collaborative innovation achieved at its AITC (Asia Innovation & Technology Centre) in Shanghai, and the company is now investing US$1 million in a significant expansion of the Centre. This important financial injection will help accelerate innovation and enhance customers' ability to turn ideas into prototype parts for testing and evaluation, speeding time to market and vitally enhancing the design-to-mass production workflow for advanced engineering design in China and Asia generally.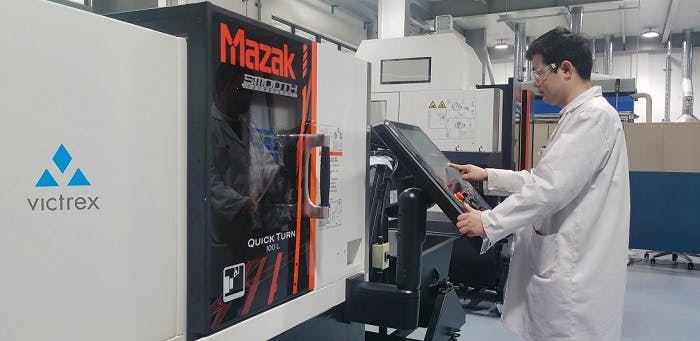 Andrew Storm, General Manager China, commented, "Investment to support our customers with PEEK expertise to accelerate their speed to market has always been key. Since the AITC opened in Shanghai in 2006, as a 2000-square-metre technical centre of excellence, the facility has undergone dynamic growth and development offering injection and compression moulding, thermoforming and analytical capabilities. With this current upgrade, we can now offer a 4-axis CNC machine for part prototyping, part and tool design advice and process validation, as well as supporting Additive Manufacturing capabilities, supporting innovation for process and material development for 3D printing."
This further commitment to the AITC will provide customers with facility for total solutions, from Material Selection to Part Prototyping, and beyond, with the capability for advice on part design and injection moulding tool design, as well as the capability for part FEA (finite element analysis) and additive manufacturing equipment. This will significantly reduce the lead time for prototype sampling while providing data-based quality inspection before sampling and concept-proof decision-making prior to committing to large investments for the customers.
The AITC has assisted in the development of solutions for the Automotive and Aerospace sectors - where the goal is to reduce emissions and weight while maintaining the equivalent strength of metals and offer enhanced performance. These benefits can lead to improved fuel efficiency and total system cost reduction for the end-user and is vital in a situation where China is driving the production of electric vehicles (EVs) and New-Energy Vehicles (NEVs), for which powertrain architecture and energy-efficiency is a crucial design factor.
With a global shortage of silicon chips, then the hugely important field of semiconductor chip fabrication is also a key focus of the AITC, to offer solutions to help enable faster silicon chip manufacturer, more uptime of semi-con fabs, and enhance yield as the node size on chips reduces.
Technology and capacity enhancement
Absolutely central to the implementation of this latest operational upgrade is the addition of a 4-axis CNC machine, and part design and tool design capability, and Additive Manufacturing (AM) capabilities, with these hardware and software upgrades significantly enhancing the capabilities of the lab, particularly in terms of enabling component design freedom, prototyping, and CAD (computer aided design and engineering).
AM is increasing in China, as both a means of efficient prototyping and as a new manufacturing technique. Xinhua recently reported that the country's "major additive manufacturers reported a total operating revenue of 7.5 billion yuan (about 1.14 billion US dollars) in the first nine months of the year". This figure was up 10.3% year-on-year, according to the Ministry of Industry and Information Technology.
Added Storm, "Adding this impressive array of new hardware and software will drive a major capability expansion of the AITC Application Lab, allowing it to provide technical support for customers at a very early stage in the integrated processes that take innovative product concepts and move them into mass production. In this way, opportunities will be recognised and defined and then applied in a time-efficient and cost-effective way, helping to accelerate time to market, which can be a significant advantage for customers."
AITC plays vital role in R&D
Founded by Victrex in 2006, the AITC has played a central role in R&D in China, and throughout the Asia region, by helping customers to bring their ideas to reality with high-performance polymers such as VICTREX™ PAEK* polymers, APTIV™ films, Pipes, Fibres, Filaments, and Uni-Directional (UD) tapes. Shanghai was selected as the specific location for the Centre on account of its leading role in technological development for the enterprise.
As a result, the Centre has helped bring innovation to fruition by working with customers directly on analytical tests, design optimisation, prototyping and product testing. The AITC continues to provide strategic analytical services in its state-of-the-art laboratories, enabling customers to generate comparative data and select the appropriate materials for their products. In addition, the AITC provides various types of formal technical training sessions, both internally and externally.
Chinaplas 2021 Preview
At the upcoming Chinaplas show, Victrex will be showcasing its PEEK polymer solutions ranging across leading industrial sectors; these products and the know-how of Victrex contribute to solving materials limitations in advanced applications, often replacing metals. Visitors to the Victrex Chinaplas stand can look forward to seeing pioneering new grades, as well as exciting progress on forms and parts in critical applications where high-performance polymers deliver a strong advantage in the development of new markets. Visit our booth at 17E191, Chinaplas, 14th-16th April 2021.
* PAEK, Polyaryletherketone, a family of high-performance thermoplastics, such as VICTREX™ PEEK
About Victrex
Victrex is an innovative world leader in high-performance PEEK and PAEK polymer solutions focusing on the strategic markets of automotive, aerospace, energy (including manufacturing and engineering), electronics and medical. Every day, millions of people use sustainable products and applications containing our materials – from smartphones, aeroplanes and cars to oil and gas operations and medical devices. With over 40 years 'experience we are developing world leading solutions with PEEK and PAEK-based polymers and selected semi-finished and finished parts which shape future performance for our customers and our markets, deliver environmental and societal benefits, and drive value for our shareholders. Find out more at www.victrex.com
Contacts
Victrex Media Contact
media@victrex.com, Tel. +44 1253 898 000
Great China Media Contact
Eileen Li, Marketing Communications Manager
eileen.li@victrex.com, Tel +(86) 21-6113-6913
Corporate, Financial Media or Investor Relations Enquiries
Andrew Hanson, Director of Investor Relations & Corporate Communications
ahanson@victrex.com, Tel. +44 1 25 38 9 81 21
Victrex plc and/or its group companies (Victrex plc) believes that the information contained in this press release is an accurate description of the typical characteristics and/or uses of the product(s) and is based on information that we believe is reliable. However, it is provided for information only. It is not intended to amount to advice on which you should rely and should not be construed as, or used as a substitute for other professional or specialist advice. In particular, it is the customer's responsibility to thoroughly test the product in each specific application to determine its performance, efficacy, and safety for each end-use product, device or other application. Suggestions of product uses should not be taken as inducements to infringe any particular patent. Mention of a product in this document is not a guarantee of its availability.

Victrex plc reserves the right to modify products, specifications and/or packaging as part of a continuous program of product development. Victrex plc makes no warranties, express or implied, including, without limitation, a warranty of fitness for a particular purpose or of intellectual property non-infringement, including but not limited to patent non-infringement, which are expressly disclaimed, whether express or implied, in fact or by law.

Further, Victrex plc makes no warranty to your customers or agents, and has not authorised anyone to make any representation or warranty other than as provided above. Victrex plc shall in no event be liable for any general, indirect, special, consequential, punitive, incidental or similar damages, or any damages for harm to business, lost profits or lost savings, even if Victrex has been advised of the possibility of such damages regardless of the form of action. The foregoing does not seek to affect our liability in respect of: (i) death or personal injury arising from our negligence; (ii) fraudulent misrepresentation; (iii) product liability or other consumer remedy claims brought by an individual consumer in relation to our products; (iv) nor any other liability which cannot be excluded or limited under applicable law.
© 2020 Victrex plc. VICTREX™, APTIV™, VICOTE™, VICTREX PIPES™, VICTREX HT™, VICTREX ST™, VICTREX WG™, VICTREX FG™, VICTREX HPG™, VICTREX AE™, VICTREX CT™, VICTREX AM™, APTIV DBX™, ZYEX™ Fibres and SHAPING FUTURE PERFORMANCE™ are trademarks of Victrex plc or its group companies. All rights reserved.

Supporting information on all claims is available upon request from Victrex.
You may also be interested in...