Metals have long been the material of choice in the commercial aerospace market. However, polymer composites are making significant inroads, replacing metals along the entire aerospace supply chain – as best witnessed by the Boeing 787 and Airbus A350 developments.
But what exactly is a composite?
Simply put, a composite can be defined as a combination of two or more materials to create a high-performance material that is greater than the sum of its parts. The benefits are plentiful, such as weight savings and excellent mechanical properties, as well as reduced costs and improved processing efficiencies.
In our case, we are speaking about thermoplastic composites which for us are a combination of PEEK and closely related polymers of the PAEK family. These are used as the polymer matrix material, together with a high volume fraction of continuous carbon, or glass fibres, that provide the required performance properties. VICTREX™ PAEK and PEEK composites are available in the market in various forms such as unidirectional (UD) prepreg tape, fabric and rods.
Why is this a viable metal replacement?
Thermoplastic composites have the replacement of metals such as aluminium, titanium and steel in their crosshairs. This is because they can deliver a number of benefits:
Up to 60% weight savings

Up to 5x higher specific strength

Up to 2x higher specific stiffness

Up to 4x higher fatigue performance

Highly-efficient out-of-autoclave processing

Freedom to consolidate parts and optimise designs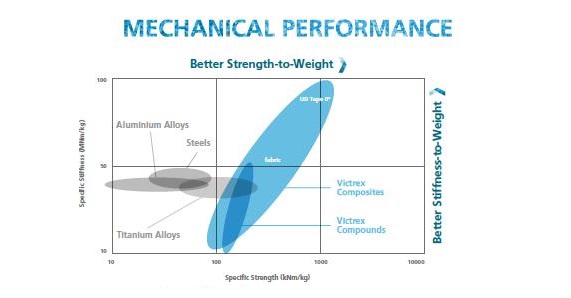 With outstanding mechanical properties, VICTREX PAEK composites components offer alternative solutions with weight reductions compared to traditional metal and metal alloy parts, based on higher specific strength and stiffness.
But what makes these benefits so attractive to the entire supply chain?
It's the ability to take cost out. The true value of thermoplastic composites can be appreciated from the start through faster process cycles, out of the autoclave.

The ability to combine laminated composites with injection moulded compounds to make hybrid parts for faster manufacture at lower cost than machining metals.

Design optimisations help with ease of installation.

Weight is taken out of the aircraft using polymer composites, meaning greater fuel efficiency and reduced operating costs.

Long-term mechanical properties and improved toughness help to reduce maintenance costs.
All of these benefits add up to performance that is difficult to achieve, and provide some of the key reasons for the adoption of thermoplastic VICTREX PAEK composites to meet the increasing needs of the aerospace industry.