Innovative compact drinks dispenser from SkyTender Solutions: Very thin, weight-optimised inner water tank solution developed with support of Victrex meets aviation and food requirements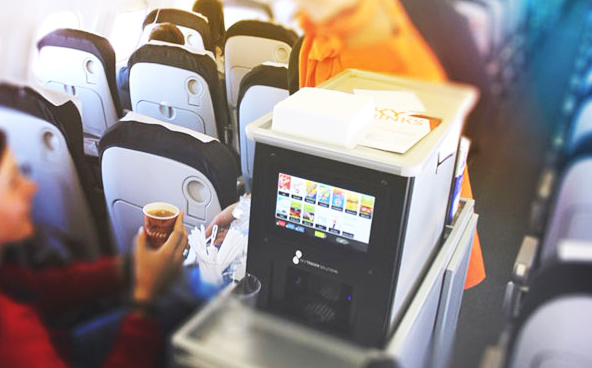 Would you like an orange juice, a chilled cola or a hot cup of coffee? – For most passengers, drinks at altitudes of 10,000 metres are part of the 'flying experience'. However, the customary service is a cost and an environmental factor for airlines and caterers. "SkyTender", a mobile drinks dispenser produced by SkyTender Solutions can save time and can replace conventional packaging such as tins or bottles while making consumption more transparent. With this innovative product, the Germany-based company is counting on a digital-networked technology and high-performance materials certified for aviation, such as the high-performance VICTREX™ PEEK polymer for the water tanks.
Used for the inner water tank, VICTREX PEEK polymer ensures that drinks taste the way they should. The SkyTender's three 10-litre tanks in total can contain either warm or cold drinking water in each case. In operation the materials must not degrade and contaminate the products particularly in the event of prolonged contact with hot water. The thermoplastic from Victrex, a leading supplier of PAEK-based solutions with more than 35 years of experience, is compliant with requirements of the US Food and Drug Administration FDA 21 CRF 177.2415 and the European framework regulation EC 1935/2004 for food contact and has a history of decades of use in the food processing industry.
Competent support from the very beginning
The fact that Victrex is on board and supported the development of the weight-optimised, very thin inner water tank is appreciated by Andreas Strauß, Senior Vice President Innovation at SkyTender Technology GmbH: "Victrex has strongly supported us during material selection and tool design. We were able to integrate the material´s properties and processing guidelines as well as the thermal and static behaviour at an early stage during the design of the water tanks."

SkyTender: a refreshingly simple solution benefits all stakeholders
The SkyTender solution, which is as refreshing as it is simple, recently received the necessary clearance from the Federal Aviation Authority (FAA) in the US. The new technology is expected to have a positive impact on inflight service and environmental protection as well. It will, for instance, allow the cabin crew to save time in preparing and distributing drinks. Passengers will have a choice of up to twelve different drinks. This varied selection is made possible through a "bag in box" system, which unlike traditional bottles and cans, needs far less storage space as well as reduces packaging waste and further optimises airlines' CO2 emissions.

"In 2015, airlines hosted more than 3.5 billion passengers and air transport is growing by approximately five per cent per year.1 Aircraft manufacturers and airlines wish to match this growth with environmentally-compatible and profitable solutions and have set ambitious targets to achieve this", explains Uwe Marburger, Aerospace Business Development Manager at Victrex. "The SkyTender fully-automatic mobile drinks dispenser can certainly make a valuable contribution here." Given its compliance with requirements regarding food contact, VICTREX PEEK contributes in that the quality of the drinks remains the same. Furthermore, SkyTender has reported that the dispenser can stay in service for approximately two weeks before it needs to be thoroughly cleaned, which is a benefit to the airlines. The thermoplastic can withstand the cleaning materials and disinfectants needed for this purpose long-term; it even withstands aggressive fuels and hydraulic fluids in other applications for the aviation industry. VICTREX PEEK polymer has been used in aircraft components for more than three decades, meets the fire, smoke and toxicity (FST) standards and is qualified by several OEM's in the aerospace industry. The high-flow polymer was used for the water containers to allow the thin-walled inner tank to be manufactured efficiently using injection moulding.

Visitors to the Victrex stand (Hall 5 stand B09) at K 2016can carry out their own taste test from 19 to 26 October in Düsseldorf/Germany before the mobile drinks dispenser takes to the skies.
1 http://www.iata.org/pressroom/facts_figures/fact_sheets/Documents/fact-sheet-industry-facts.pdf

Supporting information for performance claims in this press release is available on individual request from Victrex.
About SkyTender Solutions
SkyTender Solutions is an innovative provider of integrated systems serving non-alcoholic beverages, which are aligned to the needs of airlines. The integrated hardware and software solutions from SkyTender support cost reductions and an optimization of the carbon footprint of the airlines by allowing a reduction of weight, space requirement, waste and oversupply throughout the value chain.